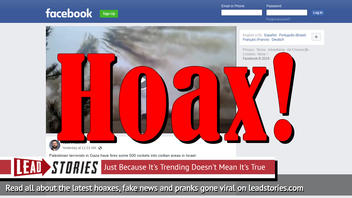 Does this video show Palestinian terrorists in Gaza firing 500 rockets into civilian areas in Israel? No, that's not true: This video shows military artillery firing missiles during a training exercise at Polessky firing range in the Republic of Belarus in March 2014.
The false claim circulated on social media after Palestinians fired hundreds of rockets from Gaza into Israel on May 4 and 5, 2019, including a post (archived here) where it was published on May 5, 2019. It read:
Palestinian terrorists in Gaza have fires some 500 rockets into civilian areas in Israel.




A 25-year-old man from the city of Ashdod, Pinchas Pshevizman, was killed.




Send the video around the world to see what we have to deal with, and then they accuse us of violence and disproportionate response.
This is what social media users saw:
Some well-connected Americans fell for the hoax, including former Trump campaign spokeswoman Katrina Pierson, who used the fake video in a tweet to attack U.S. Rep. Ilhan Omar.
650 Rockets being fired into Israel from Gaza in an attempt to overwhelm Israels Iron Dome: 173 intercepts, 4 people killed, and 28 wounded. What is @IlhanMN response to this violence? Will she condemn it? pic.twitter.com/Vb1Ymxygj6

-- Katrina Pierson (@KatrinaPierson) May 5, 2019
While there was certainly violence directed at Israel from Gaza, it was in the form of lesser rockets than the video depicts, which makes this fake news.
Not convinced? Here is a video of the same rocket firing at the same location. In case you don't read Russian, it is titled "Volley of the Hurricane Division."
Credit is due to Bellingcat researcher Alec Toler for tracking this video down:
Took a bit, but finally figured out where the @KatrinaPierson Grad video was filmed -- not Gaza (obviously), or Ukraine, or Russia, but Belarus. This March 2014 video shows it from a slightly different perspective at the Polessky firing range.https://t.co/uOtX1R1AEx pic.twitter.com/xSypyg5cUd

-- Aric Toler (@AricToler) May 6, 2019