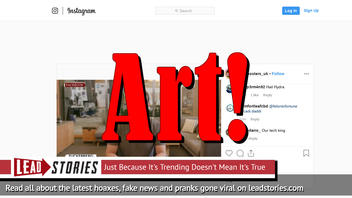 Is a video of Mark Zuckerberg admitting he has total control of the stolen data of billions of people thanks to Spectre real? No, it is a deepfake made for an art project that seeks to tests Facebook's policies on false news when it comes to faked videos.
The video in question can be seen here in an Instagram post published on June 7, 2019 by @bill_posters_uk captioned: "Mark Zuckerberg reveals the truth about Facebook and who really owns the future... see more @sheffdocfest VDR technology by @cannyai #spectreknows #privacy #democracy #surveillancecapitalism #dataism #deepfake"" (archived here). In it Zuckerberg appears to say the following words (even though the voice imitation is not that good):
Imagine this for a second: one man, with total control of billions of people's stolen data. All their secrets, their lives, their futures. I owe it all to Spectre. Spectre showed me that whoever controls the data controls the future.
This is the Instagram post in question (with an archived copy of the video here):
The video is part of an art project you can read more about here (archived here):
Spectre, a new art installation by Bill Posters and Daniel Howe, is poised to reveal the secrets of the Digital Influence Industry, but only if you are willing, as the artists say, to 'pray at the altar of Dataism with the Gods of Silicon Valley'.
The video only seems to have attracted about 2,200 views on Instagram in the four days it was up, but this Vice article and tweet seem to have propelled it into virality:
Oh my god. Artists uploaded a deep fake of Mark Zuckerberg to Instagram, saying he's in control of billions of people's stolen data and ready to control the future. Facebook previously said it would not delete similar videos under its policies. We'll see https://t.co/ufwV7zMyed pic.twitter.com/CBfVtGoaQd

-- Joseph Cox (@josephfcox) June 11, 2019
Screenshot via Instagram Two artists and an advertising company created a deepfake of Facebook founder Mark Zuckerberg saying things he never said, and uploaded it to Instagram. The video, created by artists Bill Posters and Daniel Howe in partnership with advertising company Canny, shows Mark Zuckerberg sitting at a desk, seemingly giving a sinister speech about Facebook's power.
Since Lead Stories is part of Facebook's Third-Party Fact-Checking Partnership we can say exactly what is going to happen next. In accordance with our Satire Policy we will flag the original video as "Satire" because it is making a social or political point through an obviously fake but somewhat funny video (I mean, that voice...). This will not harm the video's distribution but adds warning labels to it on Facebook so people who see it on the platform will be informed that it is not real.
(Future) copies of the video that are presented as if they are real (i.e. not part of an art project or not as part of posts talking about the art project) will be flagged as "False" by Lead Stories whenever we encounter them. This will also add the warning but in addition reduces the reach of these copies and Facebook will send out notifications to the people who shared them that there is more information available.
This is part of Facebook's "Remove, Reduce, Inform" strategy for managing problematic content:
Since 2016, we have used a strategy called " remove, reduce, and inform" to manage problematic content across the Facebook family of apps. This involves removing content that violates our policies, reducing the spread of problematic content that does not violate our policies and informing people with additional information so they can choose what to click, read or share.
In our own experience this approach works quite well: it avoids the endless re-uploading of different copies of the same material you would get if the originals were simply deleted but it also informs people who saw the content that there is more to the story. And in the end people are still free to make up their own minds but at least they will now do so with access to all information.
And with that this fact check is now oficially part of an art project...