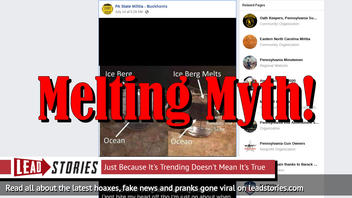 If there is little difference between the water level of a glass after ice cubes melt, does that mean that melting ice from global warming will not raise sea levels? No, that's not true: There is a big difference between the density of frozen saltwater and freshwater. A scientific study, more sophisticated than your at-home experiment with ice from your freezer, concluded that "melt water from sea ice and floating ice shelves could add 2.6% more water to the ocean than the water displaced by the ice."
The false claim originated from a post (archived here) published on July 14, 2019. It shows two measuring cups, including one mostly filled with ice and the other with the ice supposedly melted. The water levels were nearly identical. The text below the image read:
Here's one for the global warming activists. Dont bite my head off th I'm just on about when the ice melts. So please don't have a meltdown yourself lol
This is how the meme post appeared on social media:
The inference of the meme is that the fear of rising sea levels from the melting of polar shelf ice and floating ice is a myth because the water from melted ice merely displaces its same volume in water.
This is a flawed experiment, as it uses ice from a home freezer, which is freshwater, and the ice is completely submerged in the measuring cup. This is not the situation with polar ice shelfs and floating ice in the ocean. For an expert explanation beyond your kitchen, we checked with the National Snow and Ice Data Center (NSIDC), which is part of the Cooperative Institute for Research in Environmental Sciences at the University of Colorado Boulder. We quote from their webpage titled "Melting of Floating Ice Will Raise Sea Level":
When ice on land slides into the ocean, it displaces ocean water and causes sea level to rise. People believe that when this floating ice melts, water level doesn't rise an additional amount because the freshwater ice displaces the same volume of water as it would contribute once it melts. Similarly, people also think that when ocean water freezes to form sea ice and then melts, the water is merely going through a change of state, so it won't affect sea level. However, in a visit to NSIDC in May, Dr. Peter Noerdlinger, a professor at St. Mary's University in Nova Scotia, Canada, suggested otherwise.

In a paper titled "The Melting of Floating Ice will Raise the Ocean Level" submitted to Geophysical Journal International, Noerdlinger demonstrates that melt water from sea ice and floating ice shelves could add 2.6% more water to the ocean than the water displaced by the ice, or the equivalent of approximately 4 centimeters (1.57 inches) of sea-level rise.

The common misconception that floating ice won't increase sea level when it melts occurs because the difference in density between fresh water and salt water is not taken into consideration. Archimedes' Principle states that an object immersed in a fluid is buoyed up by a force equal to the weight of the fluid it displaces. However, Noerdlinger notes that because freshwater is not as dense as saltwater, freshwater actually has greater volume than an equivalent weight of saltwater. Thus, when freshwater ice melts in the ocean, it contributes a greater volume of melt water than it originally displaced.
The conclusion is that this meme is a myth. There is reason for alarm from global warming because of rising sea levels.