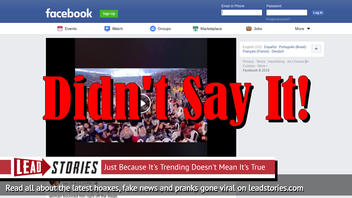 Did the priest who got shoved off the stage in Brazil say "las gordas no van al cielo" ("fat women don't go to heaven")? No, that's not true: priest Marcelo Rossi was pushed from the stage on July 15, 2019 in Cachoeira Paulista, São Paulo but he never uttered those words. Video of the incident quickly went viral on social media and some users added a caption with the claim about the obese women quote but according to local fact checkers that part is not true.
Here is an example of a post (archived here) making the claim published on July 15, 2019 with this misleading caption:
In Brazil, a priest was saying "las gordas no van al cielo" meaning "fat women don't go to heaven." So a woman bounced him right off the stage.
Here is a Newsweek report about the incident, based on local reporting:
A Brazilian priest who is celebrated in the country for his lively sermons was violently pushed from a stage yesterday while delivering mass in Cachoeira Paulista, São Paulo. The incident occurred shortly before 3 p.m.
Specifically:
Citing the police, Brazilian news portal G1 reported the culprit is 32-years-old and traveled to the youth event from Rio de Janeiro. She is believed to have mental health problems, police noted. The woman was taken to a local police station, however Rossi declined to press charges.

In a short statement, Canção Nova said it regretted the incident, adding: "The priest is well. He was attended by the medical staff at the event and presided over the celebration to the end." In a short video after the mass, the priest said he just suffered some pain but nothing was broken.
Brazilian fact-checkers from Agencia Lupa who actually listened to the video to check what the priest was saying have found that the quote about fat women not going to heaven was made up:
Circula pelas redes sociais um vídeo que mostra o padre Marcelo Rossi sendo empurrado durante uma missa no interior de São Paulo. Em publicações estrangeiras, legenda diz que o ataque ocorreu depois que o religioso disse que 'mulheres gordas não vão para o céu'. A Lupa verificou essa informação, confira
But despite this the false claim went viral and was repeated by several websites, for example here (archived version) where the claim was still being repeated in the headline a day after being debunked in Brazil:
Viral footage shows the woman, who had been listening from the audience, suddenly sprint on stage and launches herself at the priest who goes flying off the stage.
The story does note several paragraphs in that "some reports have suggested the priest did not make the controversial comment at all" but it provides no links to these reports and does not give an indication of their credibility. As to the claims the priest did make the comment it does provide a source, namely a website from El Salvador (archived here) that said the event happened in Portugal:
Un sacerdote de Portugal terminó en el suelo de su iglesia por lanzar un mensaje contra las gorditas de la congregación, así lo evidenció un video publicado en redes sociales. durante el sermón, el cura aseguró que las gorditas no van al cielo, lo que a muchos causó gracia, pero no a una mujer.
Their source? A tweet (archived here) from a Mexican TV station:
#VideoViral

En Portugal, #mujer enfurece y avienta a cura por decir que "las #gordas no van al cielo"😱 . pic.twitter.com/loyq5PV2Lu

-- Las Noticias Puebla (@NTelevisaPuebla) July 15, 2019
Headline writers who use information from two non-local sources that place an event *in the wrong country* over local reports that deny this information probably shouldn't go to heaven we think.