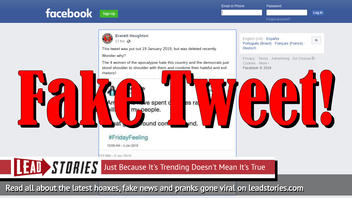 Did congresswoman Rashida Tlaib send a tweet that said "Americans have spent decades raping and pillaging my people. What goes around comes around. #FridayFeeling" and did she quickly delete it afterwards? No, that's not true: the tweet was put out by a now deleted impostor account in January of 2019 but screenshots (and screenshots of retweets) of it are still circulating to this day. One of the more popular screenshots is a (now deleted) retweet from Twitter user @bpajd (aka "Fed Up American 😡") with a caption that read:
She tweeted this out and deleted it immediately but not quick enough. She's clearly anti-american and should not be in office.
An example of a recent copy can be found in this post on Facebook (archived here) where it was published in July 2019 with a caption that read :
This tweet was put out 19 January 2019, but was deleted recently.

Wonder why?

The 4 women of the apocalypse hate this country and the democrats just stood shoulder to shoulder with them and condone their hateful and evil rhetoric!
This is what the image usually looks like: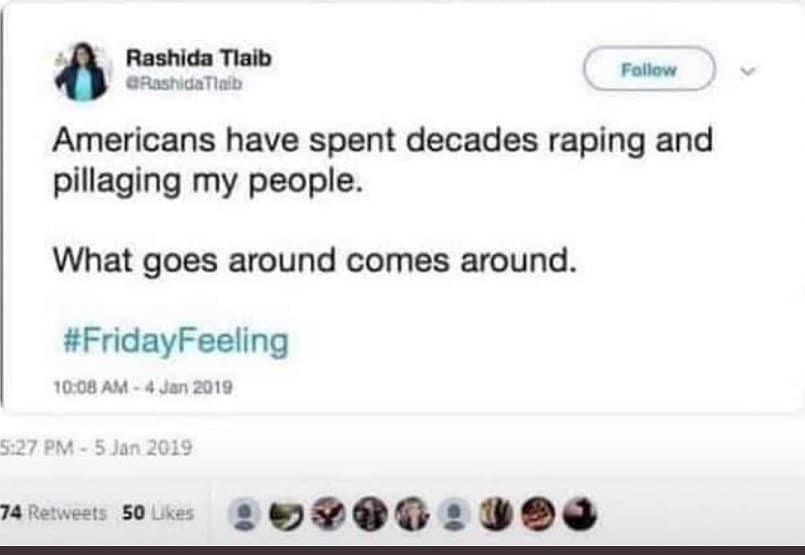 Here's an alternate version that also appears quite often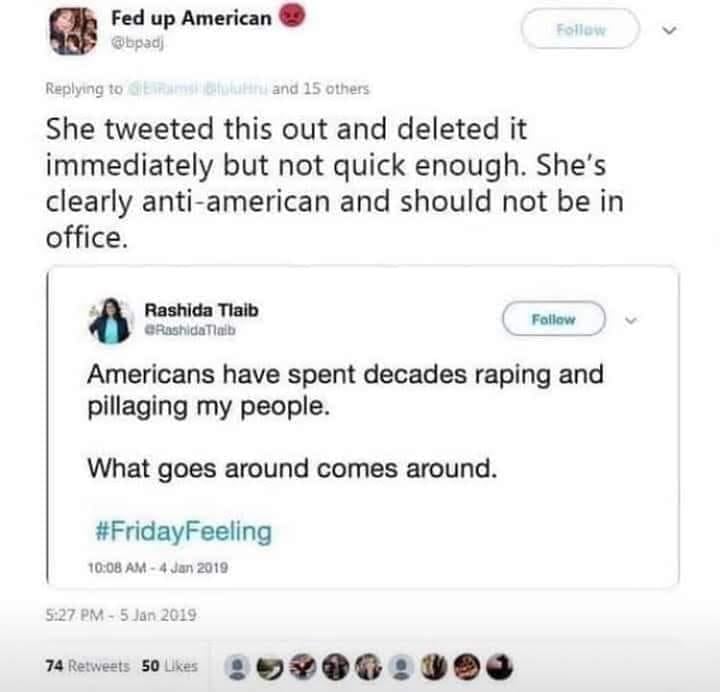 The screenshot is clearly fake since it lacks the blue checkmark that is present on Tlaib's real account, as was quickly pointed out by other Twitter users at the time:
The one you are showing isn't verified. Her Twitter account is blue checked. pic.twitter.com/lzQ7DZOJ78

-- (((𝖑𝖎𝖘𝖘𝖆))) (@lissa77) January 6, 2019
The Detroit Free Press reported on the fake tweet at the time:
CLOSE Don't believe everything you read on the internet, folks. (Except this story. You should definitely believe this story.) Rashida Tlaib has been making news so far in 2019. She's the first Palestinian-American woman elected to the U.S. House of Representatives. She represents the 13th Congressional District in Michigan.
They pointed out:
The major giveaway here is Tlaib's actual Twitter account, which has about 280,000 followers, has a blue check to verify it's actually Tlaib. (She also has a second account, "Congresswoman Rashida Tlaib," that's also verified.)

The purported tweet does not. It came from an account with a Twitter handle that spells Tlaib's last name with an upper-case "I" instead of a lower-case "L" in an attempt to deceive users. It appears that account has since been suspended, since you cannot find it on Twitter.
The author of the Twitter account @bpadj realized her mistake shortly after quote-tweeting the impostor account and tweeted several apologies:
Ahhh! Dammit. I've always trusted @Fuctupmind. I'm sorry folks I do not like to ever post false info. Some jokes are just not funny. Not that this isn't beyond her to say or worse but if it's fake I'll own it.

-- Fed up American 😡 (@bpadj) January 6, 2019
I did take responsibility &owned it. I didn't create the Fake post I just RT. You don't have to jump on me we are on the same side. People make mistakes. Mike & I are good with it. When someone posts something wrong I'm gracious enough to DM them not scold the person to the world

-- Fed up American 😡 (@bpadj) January 6, 2019
And added a message for people still getting into arguments claiming the tweet was real:
Tlaib would be so proud to know she got conservatives to turn on each other 👍

-- Fed up American 😡 (@bpadj) January 6, 2019
We don't know what Tlaib would think about that but we can agree with the sentiment: if you want to criticize someone for their political ideas at least use something they actually said.