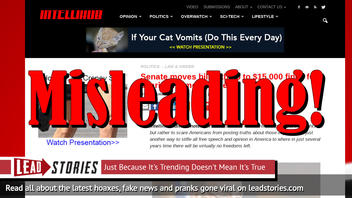 Did the U.S. Senate move on a bill that provides fines of up to $15,000 against those who share memes online? No, that's not true: A trending article making that claim distorts what the proposed copyright legislation would provide. If passed into law, it would provide a voluntary alternative to federal lawsuits for settling small copyright claims. It would not specifically relate to memes shared on social platforms and it would require the voluntary participation of both sides, including the person who allegedly violated a copyright. Also, there are no fines, just damages, which the legislation limits to $15,000 for each infringed work.
The story originated from an article published by Intellihub.com on July 29, 2019 titled "Senate moves bill with up to $15,000 fines for sharing memes online" (archived here) which opened:
A bi-partisan bill working its way through Congress could drastically change how copyright claims are processed, and would create a system to impose up to $30,000 in fines on anyone who shares protected material online.

In other words, the Congress wants to make it easier to sue people who send a meme or post images that they didn't create themselves, essentially a giveaway to lawyers who sue unsuspecting suckers for a living.
Users on social media only saw this title, description and thumbnail:
The CASE Act is now awaiting a vote before the full Senate.
If passed, the CASE Act of 2019 (Copyright Alternative In Small-Claims Enforcement Act) would create a non-judicial option to enforce copyright claims. Filing a claim through the courts can typically cost hundreds of thousands of dollars, which is not an option for small content creators who are only asking for a few thousand dollars in damages. This is how Billboard magazine explains it:
The CASE bill, then, would establish a small-claims system within the Copyright Office, where creators could represent themselves or seek the pro bono assistance of law students. (Although this system would function as a court in practice, it may not technically be considered a court, since the Copyright Office operates under the authority of Congress and not the judicial branch of government.) Damages would be capped at $15,000 for each work infringed, and $30,000 in total. The system would be staffed by "Copyright Claims Officers" appointed by the Copyright Office, and it would follow federal law.
The act creates no new rights for a creator, only a cheaper, faster option for enforcing the rights they already have. The group Fight for the Future opposes the bill because it fears it would empower "copyright trolls" who "buy up copyrights with the sole intent of sending out mass threats and lawsuits to harvest settlements." The group created an online petition titled "That meme you shared? It may soon cost you $15,000."
Have you ever shared a meme that you didn't make? Or downloaded a photo you saw on social media? If Congress has its way, you could soon get slapped with a $15,000 fine by copyright trolls--with no chance of appeal--just for doing normal stuff on the Internet. These trolls buy up copyrights with the sole intent of sending out mass threats and lawsuits to harvest settlements. Now, a dangerous new bill called the Copyright Alternative in Small Claims Enforcement (CASE) Act is sailing through Congress to make it easier for everyone from trolls to Hollywood producers to sue you. And it just slipped through a Senate Committee, clearing the way for a full Senate vote.
Yes, it does make it easier to pursue a copyright claim, but only if the person targeted by the claim agrees to participate, according to Billboard:
Participation in the system is voluntary on both sides; it has to be, since the Sixth Amendment guarantees the right to a trial by jury. But since the cost of federal litigation is so high, potential defendants have at least some incentive to opt in. Significantly, anyone threatened with a copyright lawsuit -- in a cease and desist letter, for example -- could use this system to file for declaratory judgment that the use of the work in question is either not infringing or else qualifies as fair use.
In other words, it can help a person who might otherwise face the threat of an expensive lawsuit get quick relief if they are not infringing upon a copyright. This could take some of the leverage away from those copyright trolls, who often pose as law firms (which they may be) to shake down a target for a small settlement just avoid what they fear could be a costly court fight.
This legislation is rare in that it has bi-partisan support. Key Democrats and Republicans are cosponsors. However, it is not expected to quickly pass, according to Billboard:
It's expected that this and some other copyright bills that have been introduced recently will eventually be combined into an omnibus bill that will address several issues at once. If that doesn't happen -- either because the process takes too long or Congress devotes more attention to other issues -- lawmakers could try to move this bill forward by itself.