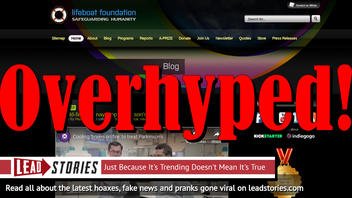 Does a new pill therapy stop Parkinson's Disease "in its tracks"? No, that's not true: News reports claiming "stunning results" in animal testing that promises to halt the death of brain cells with "a single pill each day" is sensational hype that overpromises, according to the Michael J. Fox Foundation -- which helped fund the research.
The stories originated from
an article
(archived
here
) published on November 8, 2019 under the title "World-first pill may stop Parkinson's". It opened:
A new therapy that appears to stop Parkinson's disease "in its tracks" will begin phase-one clinical trials in humans next year.

The therapy, developed by researchers at the University of Queensland - and partly under-written by the Michael J Fox Foundation - is a world first because it stops the death of brain cells in Parkinson's sufferers rather than managing symptoms.

If human trials echo the stunning results in animal testing, the inflammation of the brain that causes so much of the progressive damage in Parkinson's disease (PD) could be halted by taking a single pill each day.
This is what social media users saw:
The hyped reporting suggested to readers that the miracle pill could be on the market "rather quickly":
The progress of MCC950 to market appears to be happening rather quickly. Both the Michael J Fox Foundation for Parkinson's Research and the Ireland-based drug company Inflazome are keen for human trials to start as soon as possible.
A day after this report was first published, the Michael J Fox Foundation published a disclaimer and warning to Parkinson's sufferers and their families who may have developed a false hope from the article. Written by a doctor who worked for the charity, it was titled "A Pill to Stop Parkinson's?":
A news story is circulating about a pill to stop Parkinson's. For the millions of people looking forward to a therapy that could slow or stop disease -- something we don't yet have -- articles like this offer hope, but often (as in this case) they also overpromise.
The foundation warned that even if the therapy proves to be safe and effective in human testing, it would be "many years" before it could be given to patients:
The results do look promising, but the author hypes the science with a sensational title and broad conclusions. Because this is pre-clinical data, the therapy needs to go through several steps (and many years) of testing before it may be ready and valid for human use. (Unfortunately, clinical trials are the steps at which many therapies fail.) The Michael J. Fox Foundation is enthusiastic about new targets and positive results. But it's disappointing when the media plays on patients' and families' hopes.
The group concluded with good advice to those waiting and watching for cures for diseases. Be wary of what you read online:
News bombards us constantly and, especially when you're waiting (understandably) impatiently for the latest breakthrough, it can be hard to differentiate information from misinformation. But anyone can be a smart consumer of research news. Don't believe everything you read (or hear) and look to unbiased sources, such as our website, to help you put news in context.
Lead Stories has found dozens of variations on this over-hyped health reporting.