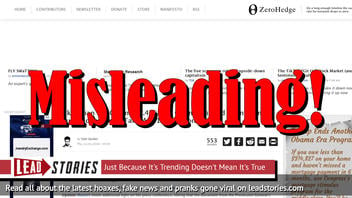 Does a Ukrainian indictment claim there is a $7.4 billion Obama-linked money laundering scheme, and does the indictment put a Biden group's take at $16.5 million? No, that's not true: There was no such indictment as of November 21, 2019. The false report appeared to be a distortion of a revelation by Ukraine's prosecutor general that his office has widened its investigation into the founder of Burisma, a Ukrainian gas company.
Reuters reported that the widened investigation involves alleged tax violations, money-laundering and licences given to Burisma during the period when founder Mykola Zlochevsky was Ukraine's Minister of Ecology and Natural Resources, from 2010 to 2012. The period precedes the time when Vice President Joe Biden's son Hunter served on Burisma's board from 2014-2019. The prosecutor's announcement did not mention Biden or an "Obama-linked money laundering scheme."
The false claims originated with report by the Russian-owned Interfax-Ukraine news agency, which was quickly picked up and repeated by conservative U.S. websites and social accounts, including an article published by ZeroHedge.com on November 20, 2019 titled "Ukrainian Indictment Claims $7.4 Billion Obama-Linked Laundering, Puts Biden Group Take At $16.5 Million" (archived here.) It opened:..
A Ukrainian MP says a document leaked from the Ukraine's Office of the Prosecutor General contains claims against Burisma owner Nikolai Zlochevsky, as well as Hunter Biden and his partners - who allegedly received $16.5 million for their 'services' - according to Alexander Dubinsky of the ruling Servant of the People Party.
Users on social media only saw this title, description and thumbnail:
"Biden received money that did not come from the company's successful operation but rather from money stolen from citizens"
A report by MediaMatters.org, a non-profit media watchdog, points out the publisher of the report that is the basis of the ZeroHedge.com article has been highly praised by Russian President Putin, who has been implicated in a massive and ongoing disinformation campaign to interfere in U.S. politics:
The source of ZeroHedge's story appears to be an article from Interfax-Ukraine that repeated unsubstantiated claims about illegal payments from Burisma to Biden made by Ukrainian Members of Parliament Andriy Derkach and Oleksandr Dubinsky at a press conference they held at the news agency, where they did not offer evidence to back their claims. Interfax-Ukraine's parent company is a Russian business, Interfax, that was recently praised by Vladmir Putin as making "a major contribution to strengthening the authority and prestige of journalism."
The Interfax-Ukraine story published on November 20, 2019, opened:
Some $16.5 million received by Hunter Biden, the son of former U.S. Vice President Joe Biden, as payment from Burisma was stolen from Ukrainian citizens, member of parliament Andriy Derkach has said.

Derkach said at a press conference at the Kyiv-based Interfax-Ukraine news agency that on November 14 the Prosecutor General's Office (PGO) announced a new suspicion to the owner of Burisma, former Ecology Minister Mykola Zlochevsky.

"The PGO document once again confirms the data I had previously published on Burisma and international corruption. According to Zlochevsky's suspicion notice, Biden and partners received their $16.5 million for their services to Burisma. Biden received funds not due to the successful activity of Burisma or for brilliant business decisions or recommendations. This is the money of Ukrainian citizens. The funds were obtained by criminal means. That's what they say in the PGO," Derkach said.
The Ukrainian members of parliament referred to a "new suspicion," not an indictment. As Media Matters noted, they offered no support for the claim that Hunter Biden was implicated. ZeroHedge later acknowledged this by adding two corrections to its report, although it did not change the false headline:
Update 2: Dobinsky, the MP, says there is a "signed suspicion" at 1:19 in the video below. This has been described in Ukrainian media as an investigative step which documents allegations against an individual or individuals, similar to a criminal referral. While Donibsky says during the press conference that "Zlochevsky was charged," we have updated our headline and report accordingly.

Update: Reuters sheds additional light on the press conference, noting that the document from the Prosecutor General's office was leaked and not officially released.
When Prosecutor General Ruslan Ryaboshapka was asked about the claims by the members of parliament, he only confirmed a widened investigation of the Burisma founder, according to a Reuters report:
Ryaboshapka said Zlochevsky was now suspected of the "theft of government funds on an especially large scale," but did not provide evidence or details.

Ryaboshapka was speaking after being asked about a document from the general prosecutor's office that was leaked at a separate press conference by three lawmakers earlier on Wednesday.

The document, only part of which was visible, showed Kulyk suspected Zlochevsky of offences including using his official position to embezzle 800 million hryvnias ($33 million) of money belonging to the central bank.
Read the full Reuters report here.
NewsGuard, a company that uses trained journalist to rank the reliability of websites, describes zerohedge.com as:
A right-leaning financial news blog that fact-checking sites have flagged as a propagator of conspiracy theories and misinformation. The site frequently publishes stories sympathetic to Russia's government.
According to NewsGuard the site does not maintain basic standards of accuracy and accountability. Read their full assessment here.
We wrote about zerohedge.com before, here are our most recent articles that mention the site: