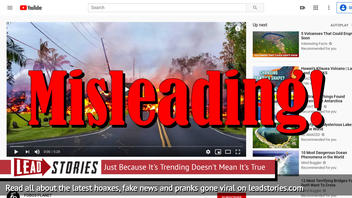 Did a video offer an update on Hawaii's Kilauea volcano on December 25, 2019? No, it's misleading: There was no new eruption on Christmas Day 2019 despite a video being shared online that purports to offer an "update" on the Hawaiian volcano.
The story originated from a video published by Fobos Planet on December 25, 2019, titled "HAWAII UPDATE -- Kilauea volcano eruption (December 25, 2019)" (archived here). It opened:
Kilauea volcano eruption (Hawaii News Update 2019). Back in May 2018, Hawaii's Kīlauea volcano kickstarted a months-long eruption that would turn out to be the most destructive in its history. Its Halema'uma'u summit crater progressively collapsed and consumed its surroundings, while magma draining from below fed rivers and fountains of lava streaming out of its eastern flanks. Ultimately, the volcano expelled some 320,000 Olympic-sized swimming pools' worth of lava. Like similar eruptions around the world, those featuring a cauldron-like summit and plenty of lava, it was assumed the magma reservoir feeding Kīlauea's mighty convulsion had run empty. But a new study published in Science this month has provided a baffling plot twist. Based on the changing dimensions of the volcano throughout the eruption, as little as 11 percent and no more than 33 percent of that magma reservoir was drained by the end of the eruption.
Users on social media only saw this:
Kilauea volcano eruption (Hawaii News Update 2019).
The video and post are misleading and could be considered clickbait. Off the top of the video, a caption notes the footage is from "Hawaii 2018," when the Kilauea volcano last erupted. At the 51-second mark, a new subtitle over drone video labels the shots "Hawaii, December 2019."
However, at the 1:28 mark, the footage again shows lava flow and fires, which are from last year. There is no on-screen caption to note that the shots have reverted to video from 2018. This could imply that the eruption is new and part of the "update" the poster is sharing.
The headline also adds "December 25, 2019" in parentheses, which might suggest there is a new eruption.
The video contains a mashup of various shots, but the source of the footage is not credited. The description for the post has been completely lifted from a Gizmodo article posted on December 11, 2019.
Lead Stories contacted the USGS, which referred us to its most recent status update on Kilauea:
Kīlauea Volcano is not erupting. Monitoring data continue to show steady rates of seismicity and ground deformation, low rates of sulfur dioxide emissions, and only minor geologic changes since the end of eruptive activity in September 2018."
Lead Stories also reached out to Fobos Planet to inquire about the source of the video, but we did not receive a reply.