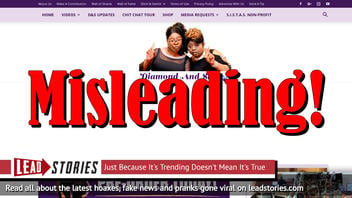 Is the defection of a second Democrat from the party evidence that the impeachment of President Trump is backfiring? No, that's not true: Rep. Jeff Van Drew of New Jersey did reveal on Saturday, December 14, 2019, that he would leave his party for the GOP, but there has not been a second defection by a national Democrat as of Monday, December 16, 2019. Inaccurate reports of a "second Democrat" leaving the party "less than 24 hours" after Van Drew's departure refer to a state senator in Pennsylvania who announced on November 19, 2019, that he would become independent. Contrary to the claim in the stories, State Sen. John Yudichak made no mention of impeachment -- with which he is not involved as a local legislator -- when he made his announcement nearly a month before Van Drew's.
The story originated from an article (archived here) published by DiamondandSilk.com on December 15, 2019, under the title "Impeachment Backfiring: SECOND Democrat Leaves The Party In 24 Hours". It opened:
State Senator John Yudichak of Luzerne County, Pennsylvania said that he will be switching his registration to become an Independent. He will caucus with the Republican majority.

Yudichak has criticized an increasingly liberal Democratic caucus that has led to this decision.

Due to issues that he finds important, Yudichak believes there is a better home in the Republican caucus.

Yudichak's announcement comes less than 24 hours since we learned that New Jersey Democratic Congressman Jeff Van Drew has also made a decision that speaks volumes.

Van Drew has strongly opposed the Democrats' impeachment efforts. After meeting with President Trump, Van Drew is now leaving the Democratic Party and becoming a member of the Republican Party.
This is what social media users saw:
Van Drew has been an opponent of impeachment all along and made it clear he would not vote for the two articles of impeachment that will be brought before the House for an expected vote on December 18, 2019. He made his decision to join the Republican Party after a meeting with Trump on Friday, December 13, 2019. But it is a false narrative to say that Yudichak's decision to leave the Democratic Party and become independent is part of an impeachment backlash. It was not a day after Van Drew, but 25 days before.
PIttsburgh NPR station reported on Yudichak's decision on November 20, 2019, in a story titled State Senator John Yudichak Says He's No Longer A Democrat:
John Yudichak, who represents Carbon County and part of Luzerne, including the city of Wilkes-Barre, is now an Independent. But he plans to caucus with Republicans.

Yudichak was first elected to the state House as a Democrat in 1999. He's been a member of the Senate's Democratic caucus since 2011. But he said he's been mulling a change for a few years--adding he thinks Democrats and Republicans are both too partisan.

His 14th State Senate District has historically swung between parties. Residents, for instance, voted for Barack Obama in 2008 and 2012, but pivoted to Donald Trump in 2016. Yudichak characterized his constituents as "very independent by nature."

Asked why he's now caucusing with Republicans--which means he'll primarily draft and discuss bills with them--he said it seemed like a better fit.
NewsGuard, a company that uses trained journalist to rank the reliability of websites, describes diamondandsilk.com as:
A video site with a conservative, pro-Trump perspective that has published false and unsubstantiated claims. The site has gotten much notice due to the high profile of the two sisters who run it.
According to NewsGuard the site does not maintain basic standards of accuracy and accountability. Read their full assessment here.