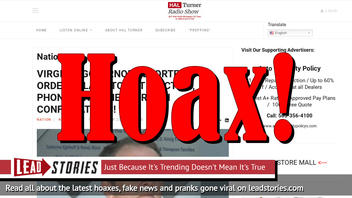 Has the Virginia governor ordered plans to cut off electricity, telephones, and Internet communications ahead of statewide gun confiscation during the new year? No, that's not true: Gov. Ralph Northam has not issued any such order, and the false claim first surfaced from a white supremacist radio host with a history of spreading conspiracy theories and other falsehoods.
This claim originated from an article (archived here) published by the Hal Turner Radio Show on December 13, 2019, under the title "VIRGINIA GOVERNOR REPORTEDLY ORDERS PLANS TO CUT ELECTRIC, PHONES, INTERNET FOR GUN CONFISCATIONS!". It opened:
The Governor of Virginia has allegedly ordered a small cadre of staffers to begin the process for determining how to cut off electricity, telephones/ FAXES, Cellular phones AND DATA, as well as the Internet, in areas where he plans to send Virginia National Guard Troops to forcibly seize guns when the Democrat legislature convenes in January!

The order was allegedly given to a very small and trusted group of staffers, some of whom it turns out, do not agree (at all) with this idea.
On November 5, 2019, Democrats took control of Virginia's House and Senate, which gave the party full control over state government for the first time in more than two decades.
A day after the victories, Northam, also a Democrat, said he would introduce gun control measures in the state legislature in January. The issue was front and center for many voters after a gunman opened fire on May 31, 2019, at a municipal building in Virginia Beach, killing 12 people. Witnesses said the man began shooting indiscriminately at his co-workers with a handgun. Northam told CNN:
Getting rid of bump stocks, high volume magazines, red flag laws. These are common-sense pieces of legislation.
In response, several communities across the state passed "Second Amendment sanctuary" resolutions, in which local law enforcement agencies said they would defy enforcement of any gun restrictions they deemed unconstitutional.
Concerns from gun-rights advocates about proposed changes to the state's laws have prompted a rash of conspiracy theories on social media. Turner, a white nationalist Internet radio host who spent time in federal prison, began spreading these untrue claims.
But the story is flat false. Turner offers no source for his claim. Last week, Lead Stories contacted the Virginia governor's press secretary, Alena Yarmosky, but did not hear back. She did tell Politifact and Snopes that the claim is "absolutely false." Also, the National Guard tweeted on December 13, 2019, that the governor had not contacted the group:
I encourage everyone to be patient while we allow our elected officials to work through the legislative process. We have not received any requests from the Governor, or anyone on his staff, about serving in a law enforcement role related to any proposed legislation.

-- Va. National Guard (@VaNationalGuard) December 13, 2019
On December 21, 2010, Turner was sentenced to more than two years in federal prison. He was charged with threatening to assault and murder three federal appeals court judges after they ruled in 2009 to uphold handgun bans in Chicago and Oak Park, Illinois. In online posts, Turner said, "These Judges deserve to be killed." He also posted their photos, phone numbers, and a map of their office building.
Northam has also faced controversy. On February 1, 2019, he acknowledged appearing in a racist photo in his 1984 school yearbook. The photos depict a man in blackface and another wearing a Ku Klux Klan robe. He said he was "deeply sorry" for the decision.
Even though the story about ordering phones and internet services cut is entirely made up, Turner's original post has been linked to thousands of times on Facebook and Twitter. Users said the governor "wants another civil war," and they accuse him of "tyranny."
We wrote about halturnerradioshow.com before; here is our most recent article that mentions the site: