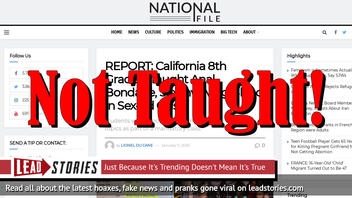 Are California 8th graders taught anal, bondage, and sex involving blood in mandatory sex education classes? No, that's not true: First, sex education classes in California public schools are not mandatory, because parents can opt their children out of the program under state law. Second, the book that is purportedly used to teach middle-school students about those sex practices was on a proposed list of suggested books - but it was banned from the curriculum before the program was adopted.
The false claim originated from an article published by NationalFile.com on January 11, 2020, titled "REPORT: California 8th Graders Taught Anal, Bondage, Sex Involving Blood in Sex-Ed Class" (archived here) which opened:
Students were taught about the extreme topics as part of a mandatory class.

California has blazed a trail for what is packaged as social progress, especially with their sex education, being one of four states-New Jersey, Colorado, and Illinois-to add mandatory LGBT history into their curricula.
Now, comes a shocking addition to their sex-ed material: anal sex and "kinky" sex, including 'blood play.'
Users on social media only saw this title, description and thumbnail:
Students were taught about the extreme topics as part of a mandatory class.
The NationalFile.com claim is based on a post by the Facebook group Informed Parents of Washington:
This post accurately noted that the book was banned by California:
This book called 'SEX' was originally on the California schools suggested reading list for kids 9-12th grade. After a huge public outcry it was removed. The fact that it was even deemed acceptable by those in charge of creating the reading list for California's school children is what is most abhorrent and unacceptable.
But the post included a screenshot of another post that featured a photo of the book's index: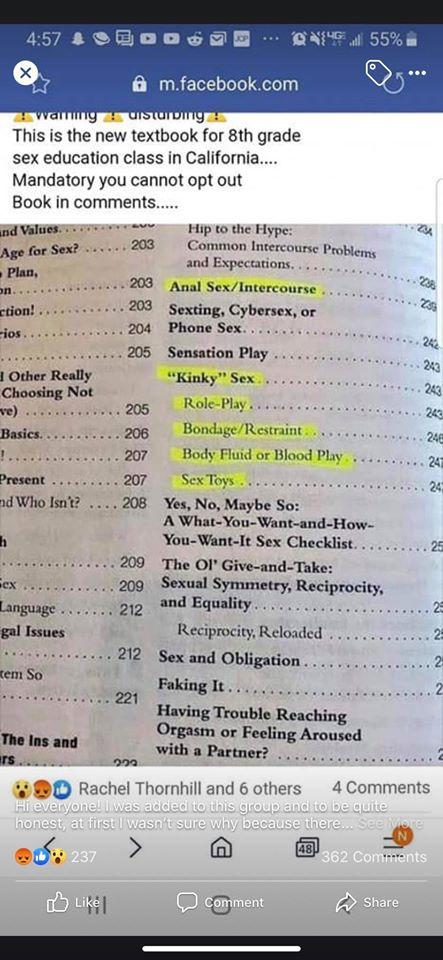 That post incorrectly claimed the book was being used, and that the class was mandatory:
This is the new textbook for 8th grade sex education class in California.... Mandatory you cannot opt out
The Los Angeles Times explained what happened with the book in a May 10, 2019, story titled Controversial sex education framework for California approved despite protest:
The guidance has prompted protest among parents, conservative groups and teachers -- most notably around some of the books that were suggested as resources, including "S.E.X.: The All-You-Need-to-Know Sexuality Guide to Get You Through Your Teens and Twenties," which includes descriptions of anal sex and bondage; and "Changing You," which includes cartoon illustrations of female and male genitalia. Both books were recommended for removal.

"It's important to know the board is not trying to ban books. We're not saying that the books are bad," State Board of Education member Feliza I. Ortiz-Licon said. "But the removal will help avoid the misunderstanding that California is mandating the use of these books."
The book has not ever been used for any classes in California public schools.
NewsGuard, a company that uses trained journalist to rank the reliability of websites, describes nationalfile.com as:
A website that has repeatedly published conspiracy theories and other false information and does not disclose its agenda.
According to NewsGuard, the site does not maintain basic standards of accuracy and accountability. Read their full assessment here.
We wrote about nationalfile.com before, here are our most recent articles that mention the site: