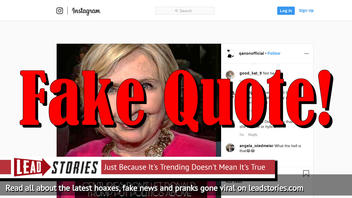 Did former Democratic presidential candidate Hillary Clinton say that "man-machine hybrids could live for centuries"? No, that's not true: A meme that users are sharing contains a made-up quote, and the accompanying image has been put through a filter to make Clinton appear older.
The quote originated from a meme (archived here) published by qanonofficial on December 13, 2019. It opened:
"Given a ready supply of an organic fuel, man-machine hybrids could live for centuries. Don't let Donald Trump put politics above virtually eternal life."
Users on social media saw this:
The meme featured a made-up quote from the former first lady and former secretary of state. She has never spoken on the record about "man-machine hybrids," which sounds like something from a science fiction novel.
According to a ZDNet article from May 2, 2015, the hybrid technology allows manufacturing workers to perform repetitive tasks more safely. The machines have nothing to do with "eternal life."
What that has to do with President Trump is unclear, but the quote is fabricated. Clinton has never said anything about Trump putting politics above "virtually eternal life."
The image of Clinton appears to have been altered by a face-aging app or filter to make her look much older.
We wrote about fake news on Instagram before. Here are our most recent articles that mention the site: