Was a restaurant in New York given approval to serve human meat? No, that's not true: The story is a hoax and was based on a satirical article from 2016 that has been roundly debunked.
The claim originated from a video published by SABS-TECH on November 28, 2019, titled "Restaurant in New York given approval to serve Human Meat" (archived here). It opened:
Restaurant in New York given approval to serve Human Meat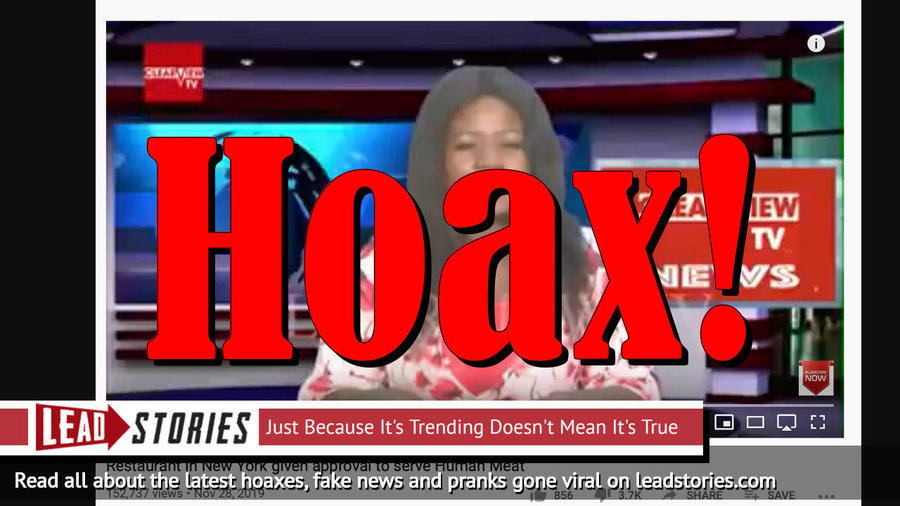 Users on social media only saw this:
Restaurant in New York given approval to serve Human Meat
The video being shared shows a fake newscaster for "ClearView TV News" reporting on the story. The "chromakey" effect on the video is very low-budget, and the woman almost appears as a hologram.
Images used in the video were the same ones featured in another false story that we have debunked previously. The so-called image of "hand meat" is actually sausage and prosciutto.
The story of human flesh on menus first appeared in a parody website, Empire News, on March 15, 2016. The article quoted a chef named Mario Dorcy. However, there is no trace of such a chef in New York. A Google search of his name revealed multiple fact checks of this hoax (here, here, and here).
According to a November 25, 2019, article titled, "No, You Idiots, an NYC Restaurant Is Not Serving Human Meat," VICE had debunked the claim:
Empire News quoted the restaurant's "four-star Michelin chef" who said that he would pay a decent price to anyone who would be willing to donate their bodies to be eaten by his customers. This, as you've already figured out by now, is total bullshit. For starters, Michelin's top honor is three stars, not four, and for next-ers, none of this has happened, nor will it ever happen--but that didn't stop people from believing it.
Snopes has also previously fact-checked the story, noting the satirical nature of the article.
That satire "warning" is not easy to spot. Readers have to click the "About/Disclaimer" link in the footer, which states the following:
Empire News is intended for entertainment purposes only. Our website and social media content uses only fictional names, except in cases of public figure and celebrity parody or satirization. Any other use of real names is accidental and coincidental.
The video may be relatively new, but the hoax is several years old. It wasn't true then, and it isn't right now. Human meat is not on the menu at any New York restaurant.
We wrote about fake news on YouTube before. Here are our most recent articles that mention the site: