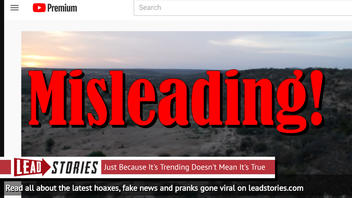 Was a long lost "City of Giants" unearthed in Ethiopia? No, that's not true: There is no evidence to suggest an Ethiopian city was once inhabited by giants, and stories making the rounds online have twisted the original article's reporting.
The claim originated from a video (archived here) published by Beyond Science on June 26, 2017, under the title "Long Lost 'CITY OF GIANTS' Unearthed in Ethiopia." It opened:
In a recent dig in Ethiopia, Archaeologists have supposedly unearthed a "long-lost city once inhabited by giants."
This is what social media users saw:
The video, which has received more than 415,000 views, claimed that archaelogists have "supposedly" uncovered a lost city in Harlaa, Ethiopia, once inhabited by giants.
On June 16, 2017, the BBC reported that Timothy Insoll from the University of Exeter and his team had unearthed the ruins in eastern Ethiopia. The article mentioned urban legends that the area had once been occupied by giants because people believed the large stones used to construct buildings could not have been lifted by ordinary humans.
The scientists found no evidence of giants, Insoll told the BBC:
We have obviously disproved that, but I'm not sure they fully believe us yet."
The video claimed the scientists focused their research on ancient settlements that could point to the existence of giants in the city. But the BBC report made no mention that the aim of the discovery was to prove giants once roamed the earth.
A "reverse image search" showed that many of the images used in the video were lifted from the BBC story, as well as a June 20, 2017, article by Inhabitat.com, which bills itself as "a green design and lifestyle site that provides coverage of environmental news."
At the end of the video, the narrator said:
So, did giants really exist in this city? Well, there hasn't been any evidence found that supports this theory."
Even though the title and thumbnail would lead viewers to believe a lost city of giants has been unearthed, the narrator acknowledged that there is no proof of such a discovery. By waiting until the end of the video to reveal that detail, the poster has successfully created a "clickbait" video without the facts to match up the title.