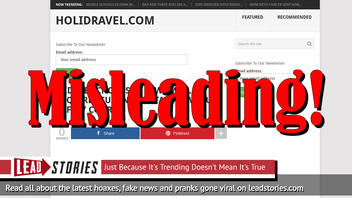 Do two middle schools in Iowa require students to take a new gun safety course? No, that's technically not true: While the schools in rural Iowa are teaching these firearms-safety courses, the article fails to mention that parents can opt their kids out of the classes. There is no requirement.
The claim originated from an article (archived here) published by holidravel.com on January 2, 2020, under the title "MIDDLE SCHOOLS IN IOWA WILL REQUIRE STUDENTS TO TAKE NEW GUN SAFETY COURSE." It opened:
Two schools in rural Iowa have updated their school curriculum to require middle school students to take a firearms safety course, according to reports.

Clarksville and North Butler school districts will ensure their pupils know how to safely handle a gun during a physical education course focusing on hunter safety.

Joel Foster, superintendent of both schools, says the course aims to prepare students for an active shooter situation. It's said students will be taught using inoperable guns and replica ammunition.
Users on social media only saw this title, description and thumbnail:
Middle schools in Iowa will require students to take new gun safety course https://t.co/J5YjzYsNuz

-- Dmer🇺🇸🇵🇷🇮🇱❤⚾️🐶🐺☕🔫 (@Gilamanda21) January 19, 2020
Two rural Iowa school districts are indeed offering a firearms-safety course this spring. The Des Moines Register noted the classes are focused on hunter safety:
During the course, students will use inoperable guns with replica ammunition.

They will learn how to load and unload ammunition and hold and care for firearms, Foster said. They'll also learn how to safely carry a gun and how to recognize when a firearm is loaded.
However, the article and headline on holidravel.com are misleading in stating that students are required to enroll without noting that parents may decide not to have their children participate. The Register reported:
Parents can opt to have their children sit out the course.
The superintendent said he hadn't received any negative feedback about the program, according to the Register.