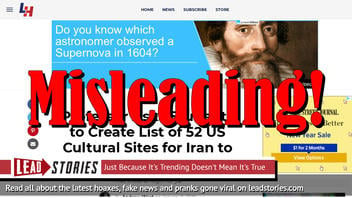 Did a college professor ask students to create a list of 52 U.S. cultural sites for Iran to bomb? No, that's not true: The professor did not give students such an assignment, but he did post a Facebook message suggesting that Iranian religious leader Ayatollah Khomenei should tweet a list of 52 American cultural heritage sites that might be bombed by Iran. The professor, who claimed it was a joke, was fired by the college.
The claim originated from an article published by Liberty Hub on January 9, 2020, titled "Professor Asks Students to Create List of 52 US Cultural Sites for Iran to Bomb" (archived here) which opened:
Sometimes, the "resistance" against Donald Trump goes just a little too far.

Upon his election to the highest office in the land Donald Trump was met with some of the fiercest opposition of any such politician since perhaps Lincoln himself. This widespread anti-Trump fervor has caused a great many, otherwise-cogent Americans into supporting some far out and uncouth positions...all for the sake of resisting Trump.

So, when the President told Iran last week that he had 52 of their cultural sites in the crosshairs of the US military, a great many liberals took umbrage with the threat.
Users on social media only saw this title, description and thumbnail:
That's liberal logic for ya.
Several days before the professor's Facebook post, President Trump tweeted a warning that he had a list of 52 Iranian sites, including culture sites, ready for targeting by U.S. missiles:
....targeted 52 Iranian sites (representing the 52 American hostages taken by Iran many years ago), some at a very high level & important to Iran & the Iranian culture, and those targets, and Iran itself, WILL BE HIT VERY FAST AND VERY HARD. The USA wants no more threats!

-- Donald J. Trump (@realDonaldTrump) January 4, 2020
Asheen Phansey, who served as director of sustainability and an adjunct professor at Babson College in Wellesley, Massachusetts, never asked students to compile a list. But in response to Trump's tweet, Phansey wrote in a Facebook post on January 7, 2020, that could only be seen by his friends:
In retaliation, Ayatollah Khomenei should tweet a list of 52 sites of beloved American cultural heritage that he would bomb

Um... Mall of America? ...Kardashian residence?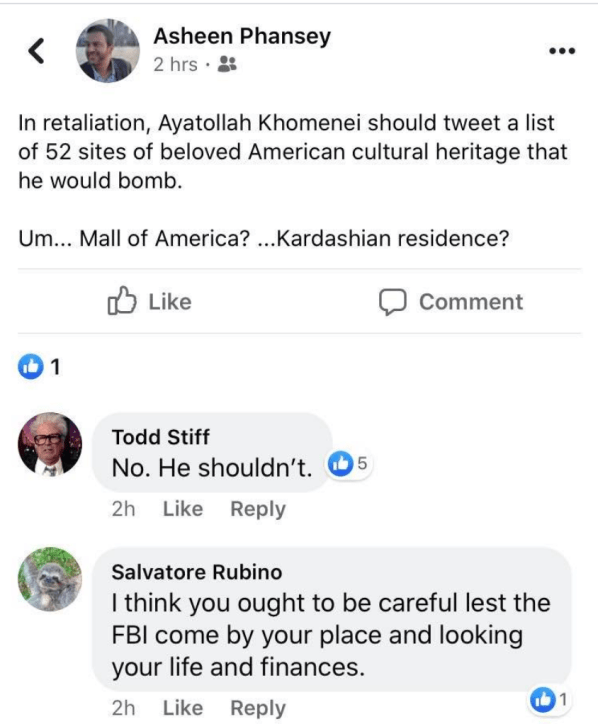 Although the post was deleted, so was the professor's name from the school's staff list.