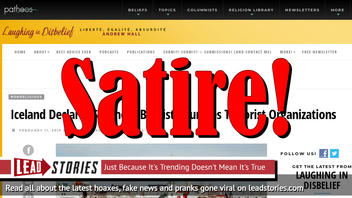 Did Iceland declare Southern Baptist churches terrorist organizations? No, that's not true: Iceland never made such a declaration. The story is a work of satire, though the hidden disclaimer on the site may not be obvious to readers.
The claim originated from an article (archived here) published by Patheos.com on February 11, 2019, under the title "Iceland Declares Southern Baptist Churches Terrorist Organizations." It opened:
Reykavik, Iceland - The parliament of this small North Atlantic country made history today by declaring the Southern Baptist Convention a terrorist organization. The resolution passed unanimously with many lawmakers cheering in celebration.

Andrew Kanard represents the town of Laugar. "What is terrorism? Using fear to achieve political goals," he explained. "The Southern Baptist Convention uses the fear of eternal torment to help it achieve anti-LGBTQ legislation, a pro-gun culture, gutting pro-environment regulations, attempting to stop the legalization of marijuana, and inhumane treatment of undocumented workers in the United States. They are the very definition of terrorists."
While an obvious hoax, the labeling is not clear to the reader that the article is completely made up. The first paragraph features a hyperlink under the word "declaring," which takes readers to a separate page. It reads, in part:
Is This Satire?

Hello, my name is Andrew Hall and I'm the author of Laughing in Disbelief. Before getting to business I just want to thank your for taking some time and reading one of my posts. I appreciate it!

You probably clicked a link to a story and you're here.

The story you were reading is satirical.

The Oxford Living Dictionary defines satire as:

The use of humour, irony, exaggeration, or ridicule to expose and criticize people's stupidity or vices, particularly in the context of contemporary politics and other topical issues.
Readers who do not click that link may not realize this story is satirical in nature. It evoked the humorous style of a piece in "The Onion."
NewsGuard, a company that uses trained journalists to rank the reliability of websites, describes patheos.com as:
A website that publishes commentary from a range of religious leaders and thinkers and provides a "Religion Library" with information on more than 20 faiths.
According to NewsGuard, the site can generally be trusted to maintain journalistic standards. Read their full assessment here.
We wrote about patheos.com before; here are our most recent articles that mention the site: