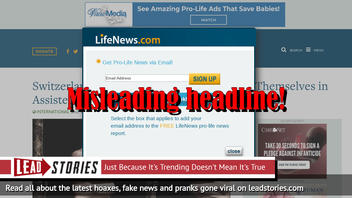 Will Switzerland allow child rapists to commit suicide in lieu of a prison sentence? No, that's not true: the headline on this article is misleading. Swiss prison officials have begun to consider making assisted suicide an option for certain inmates who are sick, but it's not an official alternative to serving time.
The claim originated from an article published by LifeNews.com on February 7, 2020, titled "Switzerland Will Allow Child Rapists to Kill Themselves in Assisted Suicides Instead of Serving Prison Term" (archived here) which opened:
Swiss officials, following a request to die from an imprisoned child rapist, have confirmed that prison inmates will be allowed to undergo assisted suicide.

Michael Robinson, SPUC Director of Communications said: "When convicted of a crime, one should serve the sentence due. A child rapist should not have the option to opt out via assisted suicide."

Peter Vogt was imprisoned in 1996 after he spent decades sexually assaulting girls as young as ten. Vogt now claims to be suffering from heart and kidney problems, and has applied to die at a Swiss assisted suicide clinic.

Earlier this year the child rapist wrote a letter to seemingly manipulate his way out of a life-long prison sentence via assisted suicide. Vogt's letter stated that "It would be better to be dead than to be left to vegetate behind these walls...Nobody should have to commit suicide in his cell alone."
Users on social media only saw this title, description and thumbnail:
Swiss officials, following a request to die from an imprisoned child rapist, have confirmed that prison inmates will be allowed to undergo assisted suicide.
Peter Vogt, who has been imprisoned for nearly 24 years for sexually assaulting young girls and women and is still considered dangerous, requested assisted suicide via letter in 2018. Vogt has been diagnosed with psychological disorders but also claims to have kidney and heart issues.
Vogt's request sparked a conversation among lawmakers to revisit assisted suicide laws in prisons. Switzerland's current law allows for assisted suicide if the inmate commits the lethal act themselves - without the help of doctors or legal injection - and has repeatedly and consistently expressed a desire to commit suicide, according to Daily Mail.
Officials agreed on the possibility of having assisted suicide in prison at the Conference of Cantonal Departments of Justice and Police. But, again, the country has only agreed to it in principle and has yet to formalize requirements and procedure.
As it is, Swiss prisoners do not have the express right to assisted suicide, though euthanasia is legal in Switzerland. The difference is the state generally bans assisted suicide except in cases of the terminally ill and elderly.
Authorities expect to come to a decision on Vogt's request this year while enlisting help from the Swiss Centre of Expertise in Prison and Probation, a publicly funded foundation. The foundation previously found that prisoners should be entitled to suicide if a physical or mental illness causes unbearable suffering, according to the New Zealand Herald. Part of the decision making may also address the aging population in prisons who become more susceptible to illness and diseases near the end of their lives.
Those that oppose assisted suicide as a blanket option for prisoners share the concern that it allows inmates to escape punishment for serious crimes.
NewsGuard, a company that uses trained journalist to rank the reliability of websites, describes lifenews.com as:
A website covering abortion legislation and politics that has published false health claims to advance its anti-abortion perspective.
According to NewsGuard, the site does not maintain basic standards of accuracy and accountability. Read their full assessment here.
We wrote about lifenews.com before. Here are our most recent articles that mention the site: