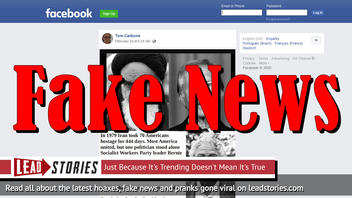 Did Sen. Bernie Sanders support Ayatollah Khomeini during the Iran hostage crisis? No, that's not true: Sanders, a candidate for the Democratic nomination for president, did not support Ayatollah Kohmeini during the crisis, when 52 Americans were held for 444 days, as suggested by a popular meme.
The meme has been shared repeatedly in recent weeks on Facebook (archived here) and other social media platforms asking "Is this what Democrat voters stand for?" At the end of the meme, there's this text:
[Bernie Sanders for President? Maybe in Iran. Not in the US. ]
Here is what some users saw on social media:
The meme features pictures of Khomeini, former Democratic President Jimmy Carter and Sanders, with the following statement:
In 1979 Iran took 70 Americans hostage for 444 days. Most America united, but one politician stood alone. Socialist Workers Party Leader Bernie Sanders supported Ayatollah Khomeini, condemned President Carter for imperialism, and accused the hostages of being CIA spies.
The meme appears to take its claims from a Jan., 16, 2020, column in The Daily Beast written by Ronald Radosh, under the headline "When Iran Took Americans Hostage, Bernie Backed Iran's Defenders." The piece claims Sanders was a member of Marxist-Leninist party, which "pledged support for the Iranian theocracy, but also justified the hostage taking by insisting the hostages were all likely CIA agents."
Similar stories appeared days later, including the Jerusalem Post as well as a number of online organizations - all mentioning or citing Radosh's opinion piece.
Radosh's piece does not say Sanders' personally supported Khomeini, or that he said the hostages were likely CIA spies.
Sanders, who has described himself as a democratic socialist, has admitted he supported candidates with ties to the Socialist Workers Party and spoke at some of the organization's events in the 1980s. But he was neither a leader or a formal member of the party, according to the Poynter Institute's Politifact.
Sanders did serve as an elector for Socialist Worker Party nominee Andrew Pulley, according to a Washington Post article published in 2015.
The meme, which was widely debunked by a number of fact-checking organizations and media outlets, also is wrong regarding the number of American hostages held for 444 days.
When the U.S. Embassy in Tehran was stormed on Nov. 4, 1979, by protesters, 66 Americans were taken hostage. Weeks later, Khomeini ordered the release of the women and African American hostages, bringing the number to 53. Another hostage was released in July 1980 due to an illness. The remaining 52 were held until Jan. 20, 1981, the day Carter left office.