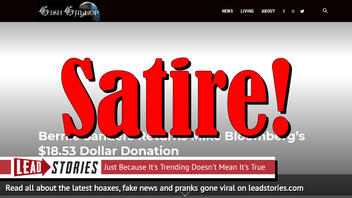 Did Bernie Sanders return a donation from Mike Bloomberg in the amount of $18.53? No, that's not true: This claim was put out by a satirical website and has no basis in fact.
The claim originated from an article (archived here) that was published by Gish Gallop on February 14, 2020. It was titled "Bernie Sanders Returns Mike Bloomberg's $18.53 Dollar Donation" and opened this way:
The Bernie Sanders for President campaign said it returned an $18.53 donation from Michael Bloomberg. According to a spokesperson, Mr. Sanders doesn't want "anything to do with billionaires trying to buy the election." Even if they're donating to his campaign.
Users on social media only saw this title, description and thumbnail:
The Sanders 2020 campaign doesn't want any money from any billionaire.
The hoax story, which has been shared hundreds of times on social media, went on to ficticiously quote Sanders as saying, "[If] Mike Bloomberg things he can buy off this campaign with his 18 dollars and 53 cents, he's got another thing coming."
Among other places, at least one (unofficial) Bloomberg Facebook group, Bloomberg 2020, seems to have been taken in by it, according to CrowdTangle data. The Bloomberg 2020 post has since been deleted. Sanders and Bloomberg are both seeking the Democratic nod to run against President Donald Trump, a Republican.
Below is an image of the shares, according to CrowdTangle data: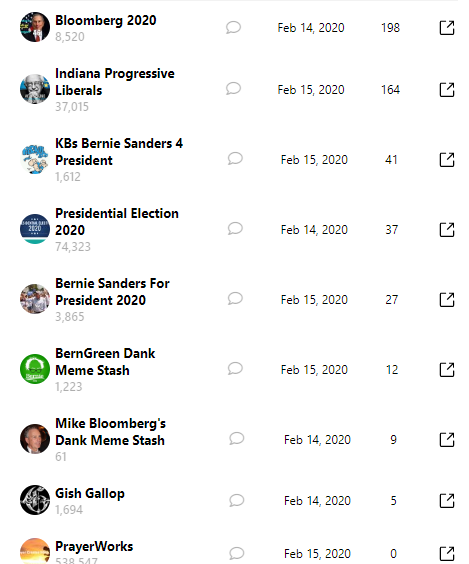 Gish Gallop is upfront about being satirical. This is the language that appears at the bottom of its webpage.
This website is for entertainment purposes only. Please do not let your children use this site. If something in one of the stories you see here is not true, that would mean it's fiction. You can still do that without censorship - create fiction. Any persons mentioned in our copy bearing resemblance to persons living or dead is a mere coincidence and probably a creation in your overactive imagination.
We wrote about gishgallop.com before. Here are our most recent articles that mention the site: