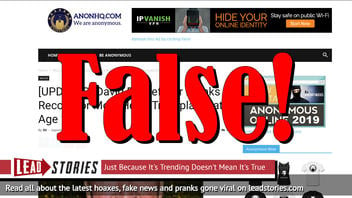 Did the former banker and philanthropist David Rockefeller break a record for most heart transplants at the age of 101? No, that's not true: The claim currently being shared online is based on a satirical story that has since been deleted.
The latest claims stem from an article (archived here) published by AnonHQ.com on September 8, 2016, under the title "David Rockefeller Breaks Record for Most Heart Transplants at Age 101." It opened:
UPDATE: David Rockefeller, the famous banker and philanthropist with the family name that controlled Chase Manhattan bank for more than a decade and wielded vast influence around the world in the world of finance, has died on Monday morning at his home in Pocantico Hills, N.Y. He was 101. Read more: http://anonhq.com/david-rockefeller-dead-101/

That's right; the Rockefeller family patriarch refuses to let nature take its course, and has instead opted to have another heart transplant at age 101, officially making the record as having "more heart transplants than any other human being that's ever existed," according to sources. This is David's seventh heart transplant.
Users on social media only saw this:
The article and a YouTube video that cited it date back to 2016, about six months before the last surviving member of the third generation of the Rockefeller family passed away on March 20, 2017. He was 102.
To this day, users are sharing the story as a commentary on the privileges some members of society enjoy.
The original story was based on an April 28, 2015, satire piece in World News Daily Report (archived here), which has since been taken down. It is a humor website that creates hoaxes and made-up stories.
On March 21, 2017, Heavy.com debunked the claim that Rockefeller had had seven heart transplants to try to extend his life. The article noted that the AnonHQ story was based on anonymous sources and even acknowledged later in the story that there weren't facts to back up the claim. Heavy.com wrote:
AnonHQ backed away from the transplant rumor entirely with this quote: "Despite many citizens insistence on believing in its accuracy, chances are its false. Readers will have to judge for themselves whether they value Snopes' accuracy above the accuracy of a publication calling itself a "Zionist newspaper," and that has a reputation of publishing satire."
Even though medical records are private, readers who share this story should be aware that the original article upon which this claim was based is a satire website.