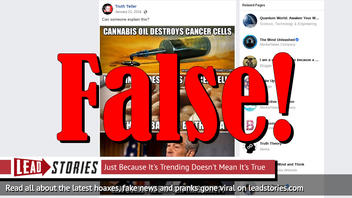 Do cannabis oil and vitamin "B17" destroy cancer cells? No, that's not true: The meme being shared by "Truth Teller" is false. Quite apart from the fact that vitamin "B17" does not exist, a year ago, researchers at the National Institutes of Health (NIH) sounded an alarm about misleading or false claims online that suggested cannabis could treat cancer.
The claims originated from a meme (archived here) published by Truth Teller on January 21, 2018, under the title "Can someone explain this?" It opened:
Cannabis oil destroys cancer cells
Vitamin B17 destroys cancer cells
Both are banned by the FDA
Can someone explain this shit?!
Users on social media saw this:
The meme has received hundreds of thousands of shares along with thousands of comments and engagements since it was first posted in 2018. However, it contains two falsehoods.
First, researchers at the NIH deny that there's a link between cannabis and a cure for cancer. In a paper published in the January 2019, issue of the medical journal, Cureus, the authors said:
Recent claims that cannabis can treat serious health conditions such as cancer have proliferated online, raising concerns within the Food and Drug Administration (FDA) and the oncology community [1]. These claims represent misleading or 'false news' [2], without basis in the medical literature [3]. Although cannabis and its derivatives may help to alleviate disease- and therapy-related symptoms, there is no clinical evidence of its anti-cancer efficacy [4].
Also, on January 13, 2017, Snopes debunked the claim that vitamin "B17" can help remedy cancer. The site noted that the assertion is troubling on its surface because no such vitamin actually exists. Some people refer to it by another name, amygdalin, according to WebMD:
Amygdalin is a compound found in the pits or seeds of apricots, apples, peaches, plums, red cherries, and other fruits. It's also in bitter almonds.

A partly man-made, purified form of amygdalin, known as Laetrile, was patented in the 1950s and became a popular alternative cancer treatment during the 1960s and '70s. It's now banned by the FDA and hasn't been available in the U.S. since 1980.
The meme correctly claimed that the Food & Drug Administration had banned both substances.