STORY UPDATED: check for updates below.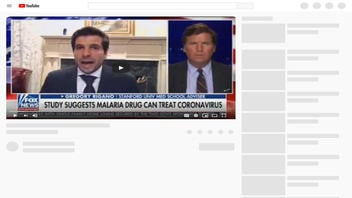 Is chloroquine or hydroxychloroquine effective against coronvirus?
Maybe.
The story has been appearing in a number of news sites, including this one from Tucker Carlson on Fox News on March 20, 2020.
Users on social media saw posts like this: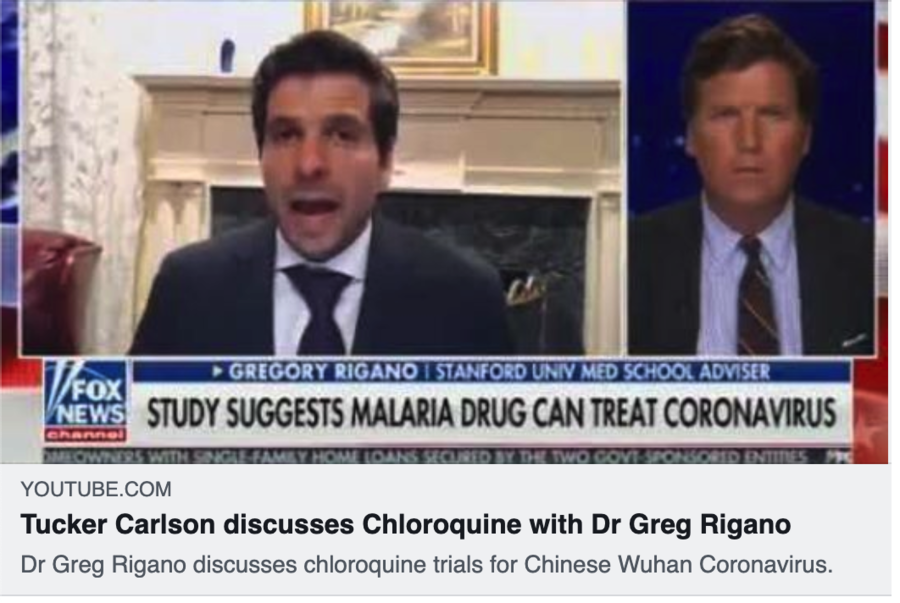 The drugs have a powerful and enthusiastic advocate in President Trump, who told reporters on Thursday, March 19, 2020, that they had shown "tremendous promise" and could prove to be a "game changer." Later in the day, the White House website posted more positive news about chloroquine and its analogue, hydoxychloroquine:
New research shows they may hold unique promise as potentially effective treatments for Coronavirus, too."
The website did not say what new research it was referring to, but a study published this week from The Méditerranée Infection University Hospital Institute in Marseille has shown promise.
It looked at 20 people who were infected with COVID-19, and 16 infected controls found that those treated with hydroxychloroquine showed a "significant reduction" in viral load six days later when compared to controls.
By day six, "70% of hydroxychloroquine-treated patients were virologically cured comparing with 12.5% in the control group," the study found.
For those patients who were also given azithromycin, an antibiotic, the results were stronger. By day six, all of them had been cleared of coronavirus, compared with 57.1% of patients who got hydroxychloroquine alone, and 12.5% of those who were in the control group and got neither drug.
But the authors noted their work had drawbacks, "including a small sample size, limited long-term outcome follow-up, and dropout of six patients from the study."
The French study was published a week after an in vitro study was published in the Journal of Infectious Disease. It looked at the impact of chloroquine and hydroxychloroquine in "controlling the cytokine storm that occurs late-phase in critically ill SARS-CoV-2 infected patients."
SARS-CoV-2 is another name for COVID-19. Cytokines are cell-signaling molecules that stimulate the movement of cells toward areas of inflammation or infection.
Though chloroquine has been used sporadically in Wuhan, China, where COVID-19 was first identified late last year, the authors speculated that hydroxychloroquine might yield similar results since its mechanism of action is the same. They added that, since it has a more tolerable safety profile, it could prove preferable to chloroquine.
The authors compared the pharmacological activity of the two drugs in vitro and found that hydroxychloroquine was more potent than chloroquine in inhibiting the coronavirus.
But that does not mean that either of the drugs could prove useful in people. The history of medical science is littered with examples of in vitro results that failed to be replicated in vivo.
Still, given that no treatment has proven successful in treating COVID-19 infection, the prospect of an effective treatment was a topic at Friday's White House press briefing, too.
Asked whether hydroxychloroquine had shown promise as a potential preventive therapy, the nation's top infectious disease doctor was adamant.
"The answer is no," said Dr. Anthony Fauci, director of the National Institute for Allergy and Infectious Diseases, adding that the only evidence is anecdotal.
None of the evidence has been collected through a controlled clinical trial, "so you really can't make any definitive statement about it," Fauci said.
That didn't stop Trump from weighing in with an opposing view. "It was fairly effective on SARS," he said, referring to Severe Acute Respiratory Disease, which affected 8,000 people in 26 countries in 2003.
Fauci was unbowed. "You've got to be careful when you say fairly effective," he said. "It was never done in a clinical trial that compared it to anything. It was given to individuals who felt that maybe it worked."
The lack of scientific evidence about the drug's efficacy against coronavirus has not stopped the U.S. government from stocking up on the drug. "We have millions of units ordered," Trump said.
Asked whether his positive spin on the drugs could give Americans a false sense of optimism, the president shot back:
Look, it may work and it may not work, and I agree with the doctor when he says it may work and it may not work. I feel good about it. That's all it is, just a feeling. Smart guy. I feel good about it and we're going to see, we're going to see soon enough."
He added:
The American people are looking for answers and they're looking for hope. ... Let's see if it works. It might and it might not. I happen to feel good about it, but who knows? I've been right a lot. Let's see what happens."
Fauci then sought to minimize his apparent differences with the president. "It might be effective," he said about the drug. "I'm not saying that it isn't. It might be effective. But, as a scientist, as we're getting it out there, we need to do it in a way, while we are making it available for people who might want to hope that it might work, we're also collecting data that will ultimately show that it's truly effective and safe under the conditions of COVID-19."
Asked whether he had reason to believe the drug is not safe when used against COVID-19, Fauci noted that all drugs have toxicities. Those associated with chloroquine have proven to be rare and largely reversible during the decades that it has been used against malaria, he said, but that's not the final word.
"What we don't know is, when you put it in the context of another disease, whether it's safe," he said. "Fundamentally, I think it probably is going to be safe, but I like to prove things first."
Dr Greg Rigano discussed chloroquine trials for Chinese Wuhan Coronavirus with Fox News' Tucker Carlson:
(Editors' Note: Since this story was first published, the Food and Drug Administration has issued strong warnings against the use of chloroquine and hydrochloroquine after poisonings and even death from the drugs. On April 24, CNBC reported:
The Food and Drug Administration warned consumers Friday against taking malaria drugs chloroquine and hydroxychloroquine to treat Covid-19 outside a hospital or formal clinical trial setting after deaths and poisonings were reported.

The agency said patients taking the drugs for approved reasons, including malaria or to treat autoimmune conditions like lupus, should continue taking their medicine as prescribed.

The agency also said it became aware of reports of "serious heart rhythm problems" in patients with the virus who were treated with the malaria drugs, often in combination with antibiotic azithromycin, commonly known as a Z-Pak. It also warned physicians against prescribing the drugs to treat the coronavirus outside of a hospital.

"Hydroxychloroquine and chloroquine can cause abnormal heart rhythms such as QT interval prolongation and a dangerously rapid heart rate called ventricular tachycardia," the agency wrote in the notice. "We will continue to investigate risks associated with the use of hydroxychloroquine and chloroquine for COVID-19 and communicate publicly when we have more information.")
2020-04-24T22:29:29Z

2020-04-24T22:29:29Z

Updates story with warnings from the Food and Drug Administration about the safety of using chloroquine and hydrochloroquine to battle the coronavirus.