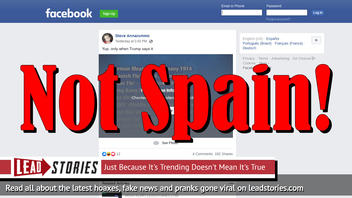 Are historic flu and other outbreaks accurately named based on the country where they originated? No, this is not always the case: With President Trump insisting that calling the coronavirus "Chinese Flu" is not racist - as his critics claim - posts have started going viral saying historic outbreaks are named because of the country in which they originated. But this is not always the case. History shows that past outbreaks named after certain countries are not necessarily accurate representations of where they began.
The claim has gone viral and appeared as a post (archived here) published by Steve Annarummoo on Facebook on March 19, 2020, under the title "Yup, Only When Trump Says It". It opened:
'German Measles' - Germany 1914
'Spanish Flu' - from Spain 1918
'Asian Flu' - from China 1956
'Hong Kong Flu' - from Hong Kong 1968
'Zika Virus' - from Zika Uganda 1952
'MERS' (Middle Eastern Respiratory System) 2012
'West Nile Virus' - from West Africa 1999
'Chinese Flu' COVID-19 - Racist*
*but only when Trump says it

Social media users saw this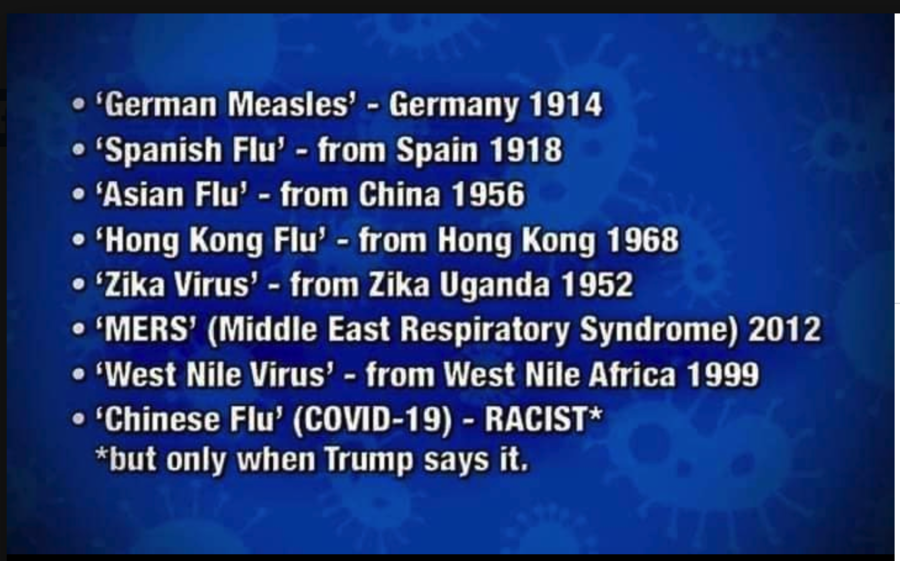 The "Spanish Flu", for example, is incorrectly attributed to Spain. An influenza pandemic occurred from January 1918 to December 1920, killing between 30 million and 100 million people globally. However, it did not originate in Spain. Rather, it broke out in the U.S. state of Kansas.
World War I censors in the United States, the U.K., France and Germany tried to cover up the death rates from that outbreak. Only Spain transparently reported the true numbers from the flu, leading to the nickname "Spanish Flu".
According to the Kansas Historical Society, the first known case of the "Spanish Flu" was recorded in Haskell County, Kansas. Approximately 500 soldiers were hospitalized at Fort Riley during the 1918 outbreak in the Kansas. They seemed to recover but were then sent to Europe to fight in WWI, and the flu was spread there.
The "Asian Flu" was first identified in Guizhou, China, and spread to Singapore then the United States by 1957.
In 1968, an outbreak was dubbed the "Hong Kong Flu", but it originated in China, not Hong Kong, according to the Encyclopedia Britannica. Hong Kong was not a part of China in 1968. It was still a British colony.
And the "West Nile Virus" is named after the West Nile region in Uganda, where it was first detected in a patient. It was not called the Uganda Virus. Moreover, the River Nile flows through Egypt and Sudan.
The term "Chinese Flu" has been used by Trump when talking about the coronavirus. His critics have derided him, calling Trump racist for the slang. Some Trump supporters then took to the internet with false stories about the history of the other outbreaks, as well as the origins of their names.
Lead Stories has been covering coronavirus facts and hoaxes. Read a sampling here: