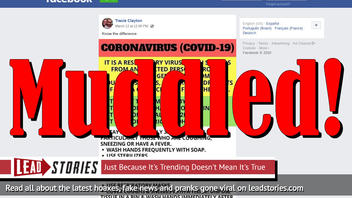 Are the assertions presented in a meme that is gaining traction on social media about COVID-19, or the new coronavirus, backed up by science? Not necessarily. Some of the information in the meme appears to be on point, but not all, according to medical experts.
The meme talking about how the virus works and ways of staying healthy appeared in a post (archived here) where it was published by Tracie Clayton on Facebook on March 12, 2020. It opened:
Know the difference
Users on social media saw this:
This laundry list contains a mix of recommendations - some supported by public health authorities, and others not. Let's go through each:
IT IS A RESPIRATORY VIRUS WHICH SPREADS FROM AN INFECTED PERSON THROUGH DROPLETS GENERATED FROM COUGHS & SNEEZES, OR THOUGH DROPLETS OF SALIVA OR DISCHARGE FROM THE NOSE
Indeed, COVID-19 is a virus that can affect the upper and lower respiratory tracts, and it is spread through droplets generated from coughs and sneezes, or through saliva or nasal discharge, according to the World Health Organization (WHO).
IT IS NOT TRANSMITTED BY AIR
Here is what WHO says about whether the coronavirus is transmitted via air: Studies to date suggest that the virus that causes COVID-19 is mainly transmitted through contact with respiratory droplets rather than through the air.
IT LIVES ON THE HANDS FOR 10 MINS.

METAL 12 HOURS

FABRIC 9 HOURS
Here is what WHO says about how long the virus survives on surfaces: "It is not certain how long the virus that causes COVID-19 survives on surfaces, but it seems to behave like other coronaviruses. Studies suggest that coronaviruses (including preliminary information on the COVID-19 virus) may persist on surfaces for a few hours or up to several days. This may vary under different conditions (e.g. type of surface, temperature or humidity of the environment)."
"If you think a surface may be infected," the organization says, "clean it with simple disinfectant to kill the virus and protect yourself and others. Clean your hands with an alcohol-based hand rub or wash them with soap and water. Avoid touching your eyes, mouth, or nose."
STAY APPROX 3 FEET AWAY FROM PEOPLE, PARTICULARLY THOSE WHO ARE COUGHING, SNEEZING OR HAVE A FEVER.
The U.S. Centers for Disease Control and Prevention (CDC) cautions against close contact with anyone who is infected with the coronavirus. The federal agency defines close contact as "being within approximately 6 feet (2 meters) of a COVID-19 case for a prolonged period of time," and adds that "close contact can occur while caring for, living with, visiting, or sharing a health care waiting area or room with a COVID-19 case."
WHO cuts that safety zone in half in some cases: "Maintain at least 1 metre (3 feet) distance between yourself and anyone who is coughing or sneezing," it says.
WASH HANDS FREQUENTLY WITH SOAP
All health officials agree with the recommendation that people wash their hands frequently - and for at least 20 seconds - with soap.
USE STERLIZERS (sic)
Here is what CDC has to say about using disinfectants: "For disinfection, diluted household bleach solutions, alcohol solutions with at least 70% alcohol, and most common EPA-registered household disinfectants should be effective."
GARGLE WITH WARM WATER AND SALT

DRINK HOT WATER

STAY AWAY FROM COLD ITEMS
Neither CDC nor WHO appear to have offered any recommendations on whether to drink hot water, or to gargle with warm water and salt. Nor have they issued any recommendations about staying away from cold items.
HAVE SUN EXPOSURES
While it's long been accepted that sunlight can be a great disinfectant, neither organization has suggested that taking a walk in the sunlight will protect anyone from becoming infected with coronavirus - or cure anyone who is already infected.
USE RESPIRATORY MASKS
CDC recommends that anyone who is already sick with coronavirus wear a face mask to limit exposing others to the coronavirus, but it notes that masks do not protect uninfected people from contracting the virus. And the CDC notes further that use of a mask by someone who would not be helped by it limits the supply of masks available for people who need them, such as caregivers and other health professionals.
COVER COUGHS AND SNEEZES WITH A TISSUE, DISPOSE TISSUE IN A BIN AND WASH HANDS IMMEDIATELY AFTER
Yes, everyone agrees that a person should cough or sneeze into a tissue. Yet they add that, once the tissue is placed inside the bin, the bin should be covered. Absent a tissue, the crook of the arm will suffice.
WASH CLOTHES OR EXPOSE TO THE SUN FOR TWO HOURS
CDC's guidance about washing clothes is as follows:
Wear disposable gloves when handling dirty laundry from an ill person and then discard after each use. If using reusable gloves, those gloves should be dedicated for cleaning and disinfection of surfaces for COVID-19 and should not be used for other household purposes. Clean hands immediately after gloves are removed.

If no gloves are used when handling dirty laundry, be sure to wash hands afterwards.
If possible, do not shake dirty laundry. This will minimize the possibility of dispersing virus.
IF EXPOSED TO A TEMP OF 26-27C IT WILL BE KILLED.
Given that the disease is flourishing in areas where temperatures regularly reach 26-27C (78.8-80.6F), this seems improbable.