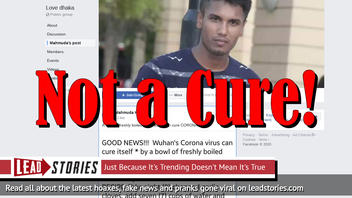 Can the Wuhan coronavirus cure itself by eating and drinking a bowl of freshly boiled garlic water? No, that's not true: There is currently no cure for the novel coronavirus, and memes circulating online are only offering fake treatments and bogus home remedies. The World Health Organization said there is no evidence eating garlic could cure the virus.
The claim has appeared on multiple posts (archived here), including one published by Mahmuda Khatun on March 8, 2020. It opened:
GOOD NEWS!!! Wuhan's Corona virus can cure itself * by a bowl of freshly boiled garlic water. The old Chinese doctor proved its effectiveness. Many patients have also proven it to be effective, RECIPE: Take eight (8) chopped garlic cloves, add seven (7) cups of water and bring to a boil. Eat and drink the boiled water from the garlic .Improved and cured overnight ... Please share with all your contacts can help save lives ..
Users on social media only saw this: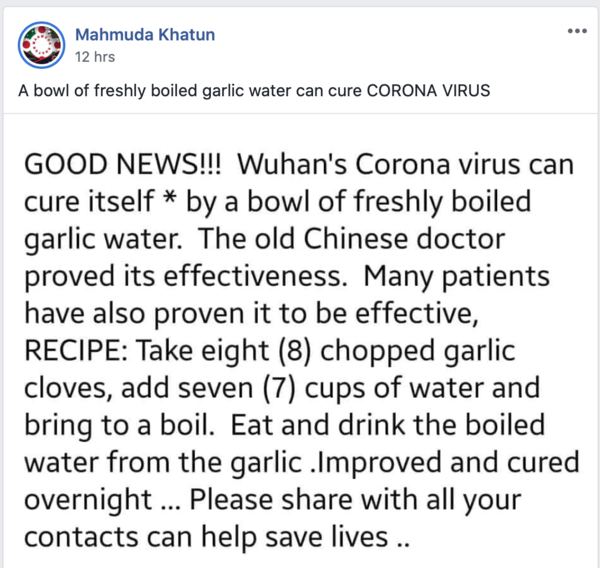 Several posts being shared on Facebook are recommending eating garlic to prevent or cure the novel coronavirus. The World Health Organization has addressed the claim on a page on its website dedicated to coronavirus myth busters, as well as on its Facebook page. It said there is no evidence that this so-called cure actually works:
Consuming these bogus cures may not necessarily be harmful, but they should not be substituted for qualified medical advice. The South China Morning Post reported on a woman who had to be treated for consuming too much raw garlic:
One woman in the eastern province of Zhejiang read online that raw garlic could help, but ate so much of it that she ended up needing hospital treatment after it inflamed her throat to the point where she could no longer speak.

The woman, from Tiantai county, identified only by her surname Zhang, ate around 1.5kg (3.3 pounds), around 16 bulbs, over two weeks.
The post claimed that "the old Chinese doctor" proved the cure's effectiveness, though it offered no name for this individual. According to an article on fake health advice, the BBC said there is no proof that consuming foods could be useful:
We know, in general, that eating fruit and vegetables and drinking water can be good for staying healthy. However, there is no evidence specific foods will help fight this particular virus.
Currently, there is no known cure for the novel coronavirus, which originated in Wuhan, China. As of March 9, 2020, there are more than 108,000 cases across at least 95 countries, and at least 3,800 deaths, according to CNN.