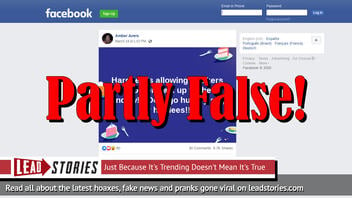 Did fast-food chain Hardee's say it would allow truckers to walk up to its drive-thrus during the coronavirus pandemic? No, that's not true: A spokesperson from CKE Restaurants said the company advises against walking up to drive-thrus for safety reasons. This article will explore some alternative suggestions for truck drivers looking for a hot meal on the road.
The claim appeared in a post (archived here) published on Facebook by Amber Avers on March 18, 2020. It opened:
Hardees is allowing truckers to order walk up to the window!!! Dont go hungry stop by hardees!!!
Users on social media only saw this:
The person who posted this message obviously meant well, but it isn't exactly true - at least not for all of the restaurants. The post has generated almost 10,000 shares as of March 23, 2020. Other similar claims about Arby's and McDonald's are on Facebook and Twitter:
Arby's and Hardees are allowing truckers to walk up to order at the window!!! 𝙽𝚒𝚌𝚎 𝚖𝚘𝚟𝚎!

-- Mary Burns (@MaryBurns007) March 21, 2020
A spokesperson for CKE Restaurants, the parent company of Hardee's, Carl's Jr., Green Burrito and Red Burrito fast-food restaurants, sent Lead Stories this response to our query:
The safety of our guests is our first-priority, and we advise against walking through our drive-thru's for safety reasons. A majority of our Hardee's restaurants are currently open for drive-thru and take-out service where guest, including truckers, are able to order food inside to take out. We also operate in a number of co-branded truck stop locations across the country. We have also escalated the cleaning, sanitizing and disinfection of our facilities and have provided all of our in-restaurant teams with added procedures and precautions to serve our guests as safely as possible.
According to an article on the Transportation Nation Network, a trucking group has asked McDonald's to allow truckers easier access to food. It sent this letter to the fast-food giant's corporate headquarters on March 18, 2020:
Currently, truckers are having a difficult time finding food on the road due to various closures because of the national emergency. We are told they are being refused service when they walk up to your drive thru windows because they are not in sedans and their 80,000 lb. big rig trucks do not fit through your drive thru driveways.
Several states have ordered partial or full restrictions on restaurant dining to try to combat the novel coronavirus.
In many cases, customers are still able to order carryout food from the inside counter. The restrictions are primarily against dining in the restaurants to avoid spreading or coming into contact with the virus.
If an indoor ordering option is not available to walk-in customers, another suggestion for truckers would be to order food from a delivery app, if they are near a major city.
Uber Eats and DoorDash are offering free delivery through the end of March 2020, where the service is available. For Doordash, the code HARDEESDELIVERY will guarantee free delivery through the end of March 2020.
If all else fails, truckers could phone their order into a restaurant for pick up. Or, they might ask - at a safe physical distance - if another customer would go through the drive-thru for them.
Truck drivers are noticing it's become increasingly more challenging to get a hot meal on the road because of the coronavirus closures. Here is a report from the NBC affiliate in Chicago about the problems drivers are facing:
The U.S. economy depends on trucks to keep stores stocked with food and other supplies. But a long haul truck driver from suburban Chicago said the coronavirus is making things more difficult on the road. Bob Stanton just returned to his home in Batavia after three weeks of picking up and delivering goods.
And here's another report from WBRC in Birmingham, Alabama:
Despite the problems, and the good intentions of the original poster, the parent company of Hardee's is advising against walking up to its drive-thrus for safety reasons.
We reached out to Inspire Brands, the parent company of Arby's, and if we hear back, we'll update this article with their response.