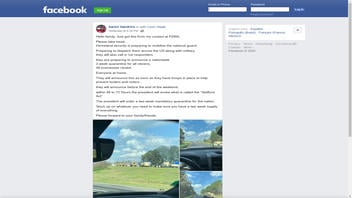 Is the U.S. Department of Homeland Security preparing to mobilize the National Guard to enforce a nationwide quarantine? No, that's not true: The National Guard has issued a tweet refuting those claims. The item has been copied-and-pasted from chain letters, text messages, and other social media posts.
It purports to be from the user's "contact at FEMA." However, it's a word-for-word duplicate of other social media posts and texts that have been making the rounds, not a new "scoop" from an insider.
The claim appeared in a post (archived here) published on Facebook by Aaron Hawkins on March 19, 2020. It opened:
Hello family. Just got this from my contact at FEMA.
Please take heed...
Homeland security is preparing to mobilize the national guard.
Preparing to dispatch them across the US along with military.
they will also call in 1st responders.
they are preparing to announce a nationwide
2 week quarantine for all citizens,
All businesses closed.
Everyone at home.
They will announce this as soon as they have troops in place to help prevent looters and rioters...
they will announce before the end of the weekend,
within 48 to 72 Hours the president will evoke what is called the "Stafford Act"
The president will order a two week mandatory quarantine for the nation.
Stock up on whatever you need to make sure you have a two week supply of everything.
Please forward to your family/friends.
Users on social media only saw this:
The post has received hundreds of shares and engagements, but it's not true. While some states, including Arizona and Oklahoma, have activated the National Guard to help combat the novel coronavirus, the Pentagon has said there are no plans to impose martial law. The federal government also said it's not calling up National Guard troops to impose a nationwide quarantine.
Gen. Joseph Lengyel, the Chief of the National Guard Bureau, refuted the suggestion on Twitter:
I hear unfounded rumors about #NationalGuard troops supporting a nationwide quarantine. Let me be clear: There has been no such discussion. ... For news about the great work the Guard IS doing to support the #Covid_19 response, click the link. #COVID19 https://t.co/JZROM4xfF9

-- Gen. Joseph Lengyel (@ChiefNGB) March 20, 2020
The National Security Council also weighed in on the claims about a national quarantine:
Text message rumors of a national #quarantine are FAKE. There is no national lockdown. @CDCgov has and will continue to post the latest guidance on #COVID19. #coronavirus

-- NSC (@WHNSC) March 16, 2020
According to NPR, tens of thousands of members of the National Guard could be called up to help states combat the novel coronavirus in the coming weeks and months. However, the federal government denies that a national quarantine is in the offing, and posts like this are simply spreading disinformation.