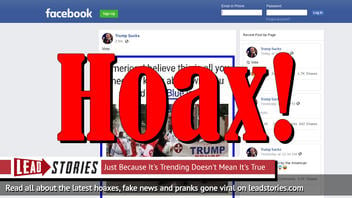 Did members of the Ku Klux Klan hold a Trump-Pence banner during a march? No, that's not true: The photo has been doctored. The actual photo was taken in 2009, seven years before President Trump was elected.
The claim originated from a post (archived here) published by Trump Sucks on March 3, 2020, alongside the caption, "Vote." It opened:
America, I believe this is all you need to know about why you should vote Blue in 2020.
Users on social media saw this:
Snopes and another fact-checker, Truthorfiction.com, have previously debunked claims surrounding this photo.
A link to the actual photo from Getty Images mentioned that the KKK march took place on July 11, 2009, in Pulaski, Tennessee. The banner actually read, "Fraternal White Knights of the Ku Klux Klan." Here is how Getty Images captioned the photo:
PULASKI, TN - JULY 11: Members of the Fraternal White Knights of the Ku Klux Klan participate in the 11th Annual Nathan Bedford Forrest Birthday march July 11, 2009 in Pulaski, Tennessee. With a poor economy and the first African-American president in office, there has been a rise in extremist activity in many parts of America. According to the Southern Poverty Law Center in 2008 the number of hate groups rose to 926, up 4 percent from 2007, and 54 percent since 2000. Nathan Bedford Forrest was a lieutenant general in the Confederate Army during the American Civil War and played a role in the postwar establishment of the first Ku Klux Klan organization opposing the reconstruction era in the South. (Photo by Spencer Platt/Getty Images)
In the post making the rounds on social media, the Trump-Pence banner was superimposed over the real words using photo editing software.
The original post first surfaced in January 2020, according to Snopes. Truthorfiction.com reported that another version was being shared in February. However, they are all a hoax.