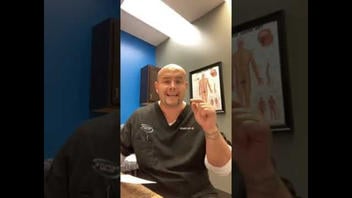 Do quinine and zinc prevent COVID-19, and will Schweppes Tonic Water help? No, neither are true: A chiropractor in St. Louis posted a video in which he touted a quinine and zinc combination as a preventative measure for coronavirus. He also claimed Schweppes Tonic Water contains quinine and will prevent COVID-19. Both the Centers for Disease Control and Prevention and the World Health Organization have stated that there is no cure or vaccine for coronavirus.
The claim surfaced in a video (archived here) on YouTube by Eric Nepute on April 9, 2020, under the title "Dr. Eric Nepute video discussing Covid 19 CV Coronavirus Quinine and Zinc."
It opened:
Hey everybody. Good afternoon. Hope you're having a great day today. It's Dr. Nepute. I've got some things that we need to talk about today. We need to have a conversation. Common sense nation needs to wake up.
Click below to watch the video on YouTube:
Nepute is a licensed chiropractor in Missouri, and his video has gotten over 7,800 views.
In confusing set of of claims, Nepute stated that the "answer is quinine" -- a medication used to treat malaria and babesiosis -- which he said prevents coronavirus. In doing so, he referenced Los Angeles-based Dr. Anthony Cardillo, who has claimed that he is treating his patients with severe COVID-19 symptoms with a combination of hydroxychloroquine and zinc. Nepute said:
He's been prescribing the combination drugs of the chloroquine and zinc and is crushing this thing. And what he's saying is, when people get on this protocol, then typically within 12 to 24 hours, they're literally walking out of the hospitals. They're just doing so much better, so...
In fact, Cardillo has claimed that he has had a 100% success rate treating patients with severe COVID-19 symptoms with hydroxychloroquine and zinc. "Every patient I've prescribed it to has been very, very ill, and within 8 to 12 hours, they were basically symptom-free," Cardillo told Los Angeles ABC 7 Eyewitness News. "So clinically, I am seeing a resolution."
Cardillo, the CEO of Mend Urgent Care, explained his hydroxychloroquine treatment only worked when combined with zinc.
He also said that he did not advise patients that were seeing only mild symptoms:
We have to be cautious and mindful that we don't prescribe it for patients who have COVID who are well. It should be reserved for people who are really sick, in the hospital -- or at home very sick, who need that medication. Otherwise we're going to blow through our supply for patients that take it regularly for other disease processes."
The CDC, in fact, has said there is no cure or vaccine for coronavirus.
There is currently no vaccine to prevent coronavirus disease 2019 (COVID-19).
The best way to prevent illness is to avoid being exposed to this virus.
And the World Health Organization also has said there no cure or vaccine for the virus.
To date, there is no specific medicine recommended to prevent or treat the new coronavirus (2019-nCoV).
But Cardillo's advice wasn't all that Nepute was suggesting in the 25-minute video. Instead, Nepute explained what he believes to be a preventative against coronavirus.
Right now, I'm telling you right now, the answer is quinine. I want everybody listening right now to go do this. I want every one of you to go today. See if you can buy some quinine and, if not, go get some Schweppes Tonic Water. Tonic water has a ton of quinine in it."
He urged people to take his advice for the prevention of COVID-19:
I'm telling everybody right now: If you know someone who's got flu-like symptoms, if they've got symptoms of COVID-19, the cold, the flu -- whatever -- go and get some either quinine and or Schweppes Tonic Water."
And Nepute encouraged people to spread the word of his recommendations.
I need every one of you people to be sharing this right now. I mean everyone every person needs to share this, because there's a lot of bullshit going on right now that everybody needs to know about. And I'm gonna throw some common-sense at you because most people aren't looking at this. Go get some quinine and get some zinc, and you're going to hear people say 'Oh, why quinine, it's bad for you.' That's why we took it off the market. No, it's not. It's in tonic water. It's very healthy. It's amazing what it does for muscle aches and pains. I use it in my office all the time for people, and if you can't find the quinine online to buy it, go get yourself some Schweppes Tonic Water; it has a ton of quinine in it."
Nepute then instructed his viewers to "take the quinine with high doses of zinc," and said he was going to share the dose he believed they should take.
However, at this point, he warned he was not giving "medical advice" -- only his opinion.
Now, I'm not your doctor. This is not medical advice; this is a suggestion. I mean, I guess that's my disclaimer. But here's the deal."
He suggested that people take the quinine and zinc combination daily "as a preventative." He also shot down the idea that a vaccine would be a "saving grace," claiming any vaccine would not have "safety or efficacy studies done," and again told viewers to "go get yourself some zinc and quinine today."
He then blamed the so-called media hype surrounding coronavirus. Nepute said that perhaps the severity of the coronavirus outbreak was being blown out of proportion by the media. He said his viewers are "being lied to, propagated to by the false news, fake narratives that are out. There people are trying to get us all riled up and in a panic again."
After taking viewers through a conspiracy theory claiming the media is supposedly controlled by the CIA -- and that viewers shouldn't believe that hospitals are overwhelmed with COVID-19 patients -- he doubled back to his point that the quinine and zinc are a "game-changer". And he assured that he is not some "crazy doctor from St. Louis," who "claims he can cure COVID-19 with zinc and supplements."
No, I never said that. No, I never said you can cure anything...nor did I say you could cure anything with a vitamin because, in our country, it is illegal to make claims about curing anything unless it's a drug."
But the whole of his video did exactly that. And again, there is no known cure or vaccine for COVID-19. So far, the U.S. alone has topped 500,000 coronavirus cases, and there have been nearly 19,000 deaths in America.