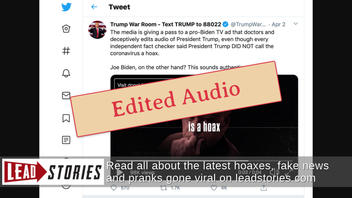 Did U.S. Democratic Presidential candidate Joe Biden call the coronavirus a "hoax"? No, that's not true, and here is some context: The audio on a tweet was manipulated, and Biden never called the novel coronavirus a hoax. The clip was deliberately made to try to force Twitter to remove other clips in which Democrats have also edited audio, according to reports. The Trump campaign said the clips made it sound as if President Trump also called the virus a hoax.
The clip appeared in a tweet published by Trump War Room on April 2, 2020, (archived here). It opened:
"The media is giving a pass to a pro-Biden TV ad that doctors and deceptively edits audio of President Trump, even though every independent fact checker said President Trump DID NOT call the coronavirus a hoax. Joe Biden, on the other hand? This sounds authentic... https://t.co/YY6vN5gTM6"
Users on social media only saw this title:
The Hill reported that the Trump campaign's tweet was specifically aimed at an ad released by a Democratic super political action committee, Priorities USA. The ad featured a string of edited soundbites of Trump that were taken out of context:
Trump refused to take the threat of the coronavirus seriously, now he won't take responsibility as his administration has been totally unprepared for this crisis. pic.twitter.com/Jdh1GY9HHS

-- Priorities USA (@prioritiesUSA) March 23, 2020
The Trump campaign told Axios:
Twitter has so far effectively instituted a 'Biden protection rule,' refusing to apply their manipulated media label to video and audio of President Trump that every independent fact-checker says is false.
Indeed, Lead Stories and other fact checkers have concluded that Trump did not call the coronavirus a hoax, though his remarks created some confusion. Instead, he said that Democrats were politicizing the virus. Here is a transcript of the February 28, 2020, event that featured Trump's comments. Lead Stories has emphasized the words from the audio clip in bold so readers can see they were taken out of context:
Now the Democrats are politicizing the coronavirus. You know that, right? Coronavirus. They're politicizing it. We did one of the great jobs, you say, "How's President Trump doing?", "Oh, nothing, nothing." They have no clue, they don't have any clue.

They can't even count their votes in Iowa, they can't even count. No, they can't. They can count their votes. One of my people came up to me and said, "Mr. President, they tried to beat you on Russia, Russia, Russia." That didn't work out too well. They couldn't do it. They tried the impeachment hoax. That was on a perfect conversation.

They tried anything, they tried it over and over, they've been doing it since she got in. It's all turning, they lost. It's all turning, think of it, think of it. And this is their new hoax.
According to The Hill, Trump's campaign wants the ad to be flagged by Twitter as "manipulated media." So far, Twitter has refused to do so and has only applied that tag to one other clip. That was a video by the Trump campaign that had made it appear Biden was saying, "We can only re-elect Donald Trump." The rest of the sentence was edited out, which changed the meaning. Lead Stories wrote about this on March 8, 2020.
We also reported on a previous video in which the Biden campaign had selectively edited soundbites of Trump out of context and strung them together as a mashup - a practice that, to be fair, has been done by political parties for years in their campaign ads.
The difference now is that social media platforms are caught in the middle, trying to determine whether content is real or fake.
On March 5, 2020, Twitter rolled out a new policy about manipulated media, which states:
You may not deceptively share synthetic or manipulated media that are likely to cause harm. In addition, we may label Tweets containing synthetic and manipulated media to help people understand their authenticity and to provide additional context.
Even so, the Trump campaign is accusing the social media giant of selective enforcement, and that is what prompted the creation of this latest manipulated clip. It remains to be seen whether Twitter will take the bait. We will update this story if the company responds.