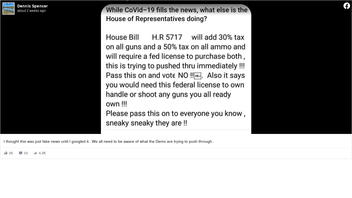 Would a bill introduced in the U.S. House of Representatives add taxes to guns and ammunition, require licenses for purchases of both and even demand federal licenses for guns already owned? No, that's only partially true: The bill, known as the "Gun Violence Prevention and Community Safety Act of 2020," would institute new taxes and new requirements for licenses, but "previously possessed firearms" would be exempt, according to the legislation.
Sweeping claims about the bill have circulated on social media. One example appeared in a Facebook post (archived here) from Dennis Spencer on March 26, 2020. He shared the claims with this opening:
I thought this was just fake news until I googled it.. We all need to be aware of what the Dems are trying to push through..
The meme he then shared, which had at least 4,400 shares as of April 7, said:
While CoVid-19 fills the news, what else is the House of Representatives doing?

House Bill H.R. 5717 will add 30% tax on all guns and a 50% tax on all ammo and will require a fed license to purchase both , this is trying to pushed thru immediately !!! Pass this on and vote NO!!. Also it says you would need this federal license to own handle or shoot any guns you all ready own !!!
Please pass this on to everyone you know , sneaky sneaky they are !!
This is what the post looked like on Facebook at the time of writing:
This piece of legislation was introduced in the House by Democatic Rep. Henry "Hank" Johnson Jr. of Georgia as a companion bill to a version introduced in the Senate by Democratic Sen. Elizabeth Warren of Massachusetts.
The bill opened with this description of its intention:
To end the epidemic of gun violence and build safer communities by strengthening Federal firearms laws and supporting gun violence research, intervention, and prevention initiatives.
Here's what Johnson said about the bill the in a press release put out on January 30, 2020, the day the bills were introduced:
The Gun Violence Prevention and Community Safety Act will save lives and make our country safer - without infringing on any law-abiding individual's right to own firearms. This comprehensive bill is a compilation of the best ideas to create a workable set of laws that will strengthen life-saving background checks, protect communities with bolstered enforcement, improve mental health services and fuel research to make guns safer. It is time for Congress come together and end the epidemic of gun violence in this country once and for all.
The 260-page bill does, in fact, include the imposition of new taxes -- 30% for guns and 50% for ammunition. It also would require a federal license to purchase both moving forward.
However, contrary to the meme, the bill does not say gunowners "need this federal license to own handle or shoot any guns you all ready own !!!"
In fact, a section about exceptions, which starts on page nine, specifically addresses "previously possessed firearms." It reads:
PREVIOUSLY POSSESSED FIREARMS.--Subsection (a) shall not apply to the possession of any firearm or ammunition by an individual who otherwise lawfully possessed the firearm or ammunition under Federal law on the date on which the Attorney General begins issuing Federal firearm owner's licenses under this section.
On March 10, 2020, the bill was referred to the House Judiciary Committee's Subcommittee on Crime, Terrorism, and Homeland Security, where it currently remains.