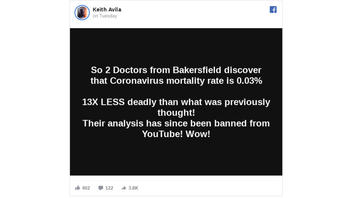 Has the coronavirus mortality rate been proven to be 0.03% -- far less deadly than previously thought? No, that's not true: It is one theory put forward over the last week by two doctors in Bakersfield, California, whose comments stirred controversy and prompted national debate after YouTube zapped videos of their news conference off its platform. However, as it is, the figure is just speculation as the pandemic continues to ravage the United States and the world and testing is not yet widespread.
Memes touting the Bakersfield doctors' claims and the outrage of their videos being taken down by YouTube have begun popping up on social media, like this Facebook post published on April 28 2020 (archived here) with following text:
So 2 Doctors from Bakersfield discover that Coronavirus mortality is 0.03%
13X LESS deadly than what was previously thought!
Their analysis has since been banned from YouTube! Wow!
This is what the post looked like on Facebook at the time of writing:
The doctors, Dan Erickson and Artin Massihi of Accelerated Urgent Care, raised the important question on people's minds: Is keeping the nation shut down worth the cost of millions of Americans facing financial ruin?
Their estimate of 0.03% as the mortality rate for COVID-19, however, was blasted by many medical professionals for shaky data analysis, including two medical associations condemning what they called "reckless and untested musings."
In fact, the mortality rate of COVID-19 remains a great unknown as the pandemic is ongoing, with epidemiologists, scientists and doctors saying more testing is needed around the nation to have a better grip on its lethality.
The doctors first made local headlines last week when they said they had tested 5,213 people at their clinics, and they had 340 positive COVID cases. "That's 6.5% of the population, which would indicate a widespread viral infection similar to the flu," Erickson said.
"Well, we have 39.5 million people (in California). If we just take a basic calculation and extrapolate that out, that equates to about 4.7 million cases throughout the state of California," he added. "We've seen 1,227 deaths in the state of California. ... That means you have a 0.03% chance of dying from COVID-19 in the state of California."
Dr. Carl Bergstrom, a University of Washington biologist who specializes in infectious disease modeling, said the problem with the doctors' approach is that the people who come into an urgent care clinic are not a random sample of the population.
"A large fraction of them are coming in precisely because they suspect that they have the disease," Bergstom tweeted. "This generates a sampling bias."
Estimating that fraction infected from patients at an urgent care facility is a bit like estimating the average height of Americans from the players on an NBA court.

It's not a random sample, and it gives a highly biased estimate.

-- Carl T. Bergstrom (@CT_Bergstrom) April 26, 2020
The American College of Emergency Physicians (ACEP) and the American Academy of Emergency Medicine (AAEM) issued a joint statement blasting what the doctors had to say:
The data cited by Drs. Erickson and Massihi is extrapolated from a small population to the state of California, resulting in misleading conclusions regarding the mortality of COVID-19. Their data is flawed and represents selection bias. In order for data to be extrapolated to a population, the investigator must assure that the populations are homogeneous, and in this case they are not.
According to data from Johns Hopkins, the confirmed death rate in Kern County, where Bakersfield is located, is 0.69% -- higher than what the doctors put forth, but far lower than the national average. The flu has a death rate of about 0.1%, according to the Centers for Disease Control and Prevention.
"Does that necessitate sheltering in place?" Erickson asked at his press conference. "Does that necessitate shutting down medical systems? Does that necessitate people being out of work?"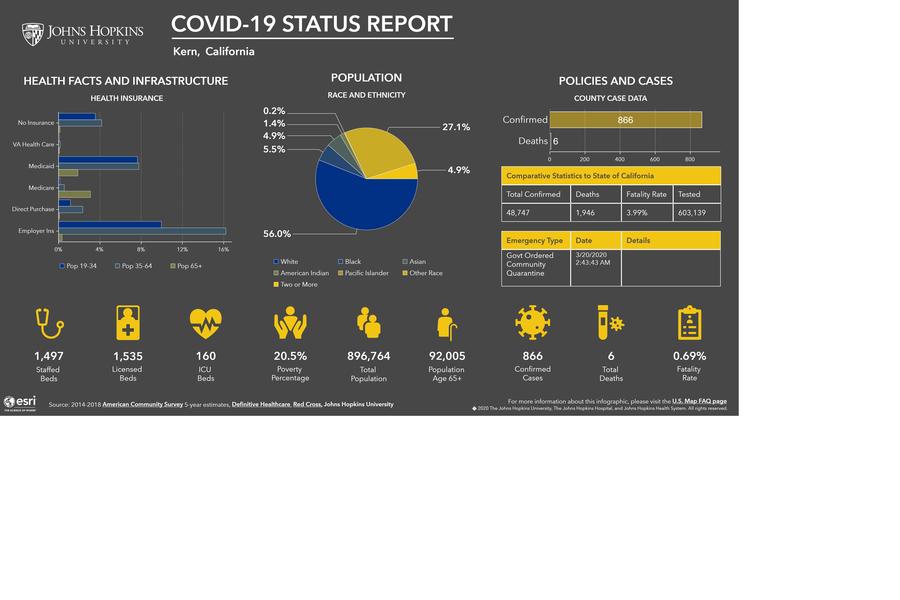 A similar uproar occurred among researchers in recent weeks after the University of Southern California and the Los Angeles County Department of Public Health released preliminary results from a study that suggested about 4.1% of the county's adult population has an antibody to the virus. That estimate translated to approximately 221,000 to 442,000 adults in the county -- or about 28 to 55 times higher than the 7,994 confirmed cases of COVID-19 reported to the county at the time of the study in early April. That would put the death rate closer to the flu, potentially even lower.
The study was not peer reviewed and faced backlash among researchers.
I understand the need for rapid communication during this pandemic, especially between scientists. So, I would expect to read a preprint describing methodology etc *before* a press release describing results of the @USC serology study. #whereisthepreprint? https://t.co/NPTmyXMX5t

-- Kevin Hall (@KevinH_PhD) April 21, 2020
The two Bakersfield doctors have become a rallying cry for many Americans growing restless of the seemingly endless shelter-in-place orders. Fox News hosts Laura Ingraham and Tucker Carlson took up their cause earlier this week, with Carlson saying YouTube and Google have "now officially banned dissent" for its decision to knock off the video of the doctors' news conference.
Elon Musk tweeted in support of them and has criticized the stay-at-home orders as fascist.
FREE AMERICA NOW

-- Elon Musk (@elonmusk) April 29, 2020
The debate over the mortality rate continues. In an opinion piece in The Hill, Dr. Scott W. Atlas with Stanford University's Hoover Institution wrote in support of reopening the nation, saying it was time to end the "total isolation:"
In New York City, an epicenter of the pandemic with more than one-third of all U.S. deaths, the rate of death for people 18 to 45 years old is 0.01 percent, or 10 per 100,000 in the population. On the other hand, people aged 75 and over have a death rate 80 times that. For people under 18 years old, the rate of death is zero per 100,000.
As of April 30, there were nearly 1.1 million confirmed cases in the United States, and almost 64,000 known deaths. But those figures might be well under the actual totals, according to some experts.
For example, Dr. Irwin Redlener, director of the National Center for Disaster Preparedness at Columbia University, and Sean Hansen, a research assistant with the center, wrote in The Daily Beast that "The COVID-19 Death Undercount Is Scarier Than You Think:"
When will we know when the COVID-19 death count accurately reflects reality? It could be months or even years.