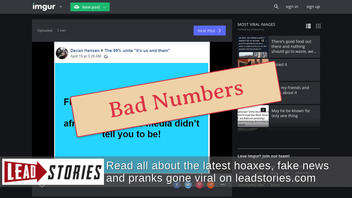 Did the flu kill 80,000 people in the United States last year? No, that's not true: The U.S. Centers for Disease Control and Prevention estimated that during the 2018-2019 flu season, there were 34,200 influenza-associated deaths. Still, the false claim is being spread on social media to challenge media reports about the lethality of COVID-19.
The meme has been widely shared on Facebook, including this April 18, 2020, post (archived here). It reads:
"Flu killed 80K people in the U.S. last year. None of you were afraid because the media didn't tell you to be!"
This is what the post looked like on Facebook at the time of writing: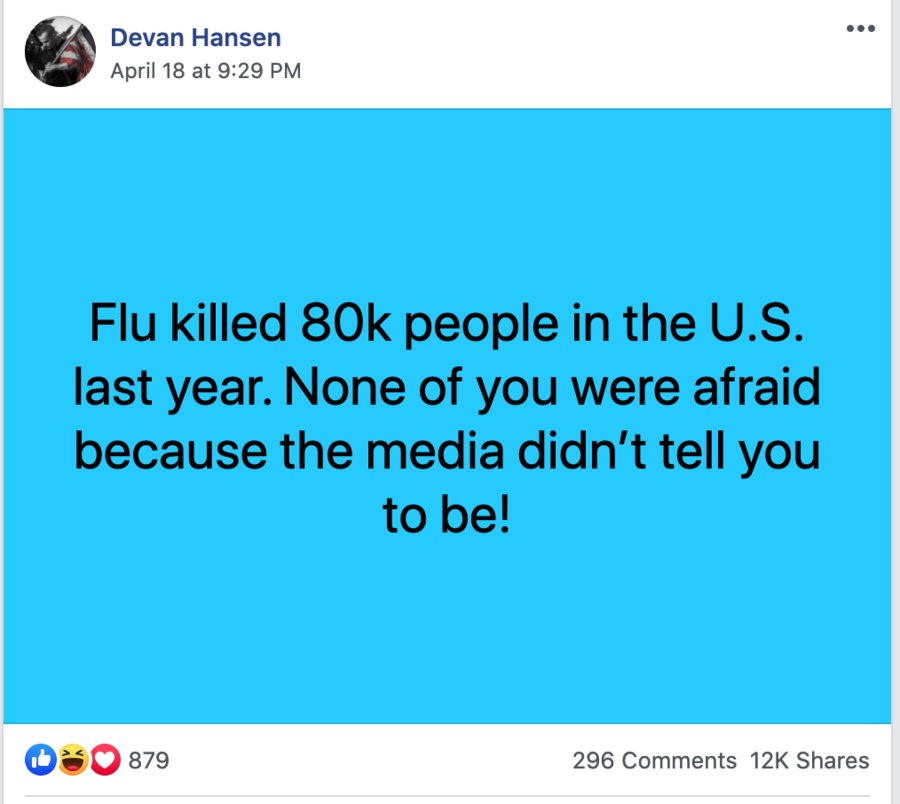 While COVID-19 and the flu are both infectious respiratory illnesses, according to the CDC, comparing their infection rates and death tolls are a bit like comparing apples and oranges. There are major differences.
The flu season typically begins in October and can last between six and eight months, depending on the severity of the outbreak, according to the CDC.
Because of the way the CDC counts cases, it does not have final numbers for the 2019-2020 flu season. But the meme is talking about "last year." So, Lead Stories took a look at those numbers, and we compared them to the COVID-19 pandemic.
During the 2018-2019 flu season, the CDC estimated 35.5 million people got "sick with influenza." Of that number, 16.5 million sought medical treatment -- and, of those, 490,600 were hospitalized and 34,200 died, according to the figures.
There is no equal measurement for COVID-19, as the novel coronavirus was only first reported in Wuhan, China, in December 2019. The first confirmed case in the United States was reported on January 20, 2020, a day after a 35-year-old man "presented to an urgent care clinic in Snohomish County, Washington, with a 4-day history of cough and subjective fever," according to a case summary in The New England Journal of Medicine.
As of this writing -- April 30, 2020 -- more than 1 million people in the United States have been diagnosed with coronavirus in the United States, and more than 61,000 people have died, according to figures from the Johns Hopkins University Coronavirus Resource Center.
Unprecedented steps in the United States have been taken since late February 2020 to slow the spread of the virus, which has claimed more lives in a few months than the flu did during the entirety of its previous season.