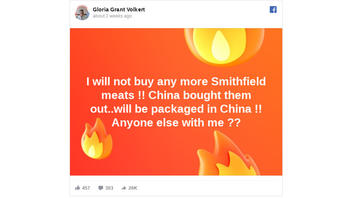 Are meats from Smithfield Foods, "the world's largest pork processor and hog producer," packaged in China before being shipped to the United States for sale? No, that's not true: This is an old rumor that's resurfaced and prompted calls for boycotts, only to be slapped down -- once again -- by the company itself.
The claim is appearing in a meme that's being shared on Facebook in posts like this one (archived here), which was published by Gloria Grant Volkert on April 1, 2020. The meme reads:
I will not buy any more Smithfield meats !! China bought them out..will be packaged in China !! Anyone else with me ??
This is what the post looked like on Facebook at the time of writing:
Other posts, like this one from Karyn L Shirley, which published on April 4, 2020, include warnings about "FOOD FROM CHINA." This post mistakenly refers to "Smithfield Farms" instead of "Smithfield Foods," but the misinformation isn't much different. Here's how the post begins:
FOOD FROM CHINA....... Smithfield Farms, the largest pork producing farm in the USA, was sold in September to China with the unanimous support of its stockholders! The hogs will still be raised here, but slaughtered and packaged for sale there before being sent back here.
And here's how the post appears on social media:
Smithfield Foods dismisses such claims outright. Here's the swift and strong response a company spokesperson sent to Lead Stories:
This is absolutely false. Smithfield has not, does not, and will not import any products from China to the United States. No Smithfield products come from animals raised, processed, or packaged in China. All our U.S. products are made in one of our nearly 50 facilities across America. These products are produced in compliance with the strict standards and regulations of the U.S. Department of Agriculture (USDA), U.S. Food and Drug Administration (FDA), and other federal and state authorities. For more information, please see here.
The company, which is headquartered in Smithfield, Virginia, was "acquired by Hong Kong-based WH Group in 2013," according to the Smithfield Foods website. WH Group, the site explains, is not Chinese-government owned. Here's what the site says:
WH Group is a publicly traded company with shareholders around the world. Anyone anywhere can purchase shares of WH Group on the Hong Kong Stock Exchange under the stock code 00288. In fact, WH Group's shareholders include many large U.S.-based financial institutions. It is not a Chinese state-owned enterprise and does not undertake commercial activities on behalf of the Chinese government.
Fake stories about Smithfield Foods go back to when that acquisition took place. But the rumors have been debunked before.
The pork-processing giant was in the news recently, when a Sioux Falls, South Dakota, processing plant -- one of the Smithfield's biggest -- had to close down because coronavirus was spreading among workers.