STORY UPDATED: check for updates below.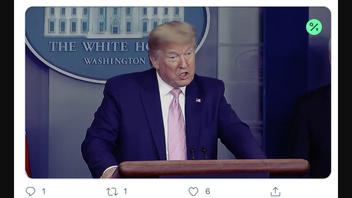 Was President Trump accurate when he stated that a study showed that lupus patients aren't catching the novel coronavirus? No, that's not true: The Lupus Foundation of America warns that people with the autoimmune disease are at a higher risk for infections such as the coronavirus, also known as COVID-19. Lead Stories could not find a study that supported the president's statement, which Trump conceded may not be true.
President Trump made the claim where he again pushed the use of an antimalarial drug at a news conference with the White House press corps on April 4, 2020. He said:
There's a study out that people with lupus aren't catching this horrible virus, they're not affected so much by it. Now, maybe that's correct, maybe it's false. You're gonna have to check it out.
Here is a video clip from social media of Trump's specific remarks:
"Theres a study out that people with lupus aren't catching this horrible virus... Maybe that's correct, maybe that's false," said Trump during Saturday's #Coronavirus Task Force news conference pic.twitter.com/snktfQU5gN

-- QuickTake by Bloomberg (@QuickTake) April 4, 2020
Trump was referring to his unproven claim that hydroxychloroquine could help treat COVID-19. His push to use the drug has led to hoarding, which has created complications for people with lupus and rheumatoid arthritis, who depend on that medication to treat their symptoms. There is also little medical evidence at this time that it can work to treat the virus.
In fact, Trump's remarks about lupus are not supported by the Lupus Foundation of America's website:
If you have lupus, you're at higher risk for infections like the coronavirus, also known as COVID-19. Some people with lupus may also be at risk for more serious complications from catching the coronavirus.
As to where Trump might have heard this information, on April 3, 2020, Laura Ingraham of Fox News featured a guest, Dr. Ramin Oskoui, who said patients with lupus who take the drug don't develop COVID-19. Oskoui is a cardiologist in Washington D.C. Here is a clip from Twitter:
There is NO evidence to suggest that Lupus patients on Plaquenil/Hydroxychloroquine are NOT at high risk for #COVID19 THIS IS UNCONSCIONABLE.😡

People with lupus should follow the guidance of their doctor and the safety guidelines being issued by the CDC.pic.twitter.com/PoDWpXb1bF

-- Peter Morley (@morethanmySLE) April 4, 2020
Trump often gets political talking points from Fox News Channel.
Oskoui's remarks ignore the fact that lupus is an autoimmune disease, and people who suffer from it have increased chances of catching any infection, according to WebMD.
Also, while hydroxychloroquine is commonly prescribed for lupus, there are other treatments, according to the Johns Hopkins Lupus Center:
Three anti-malarial drugs are prescribed for lupus symptoms. Hydroxychloroquine (Plaquenil) is the most commonly prescribed because it is generally believed to cause fewer side effects; chloroquine (Aralen) has a reputation for more serious side effects, but it may be prescribed in situations where hydroxychloroquine cannot be used. Quinacrine (Atabrine) is another alternative, but it is prescribed less often because it can sometimes cause a yellow discoloration of the skin. It is sometimes given in addition to hydroxychloroquine if the patient does not respond to Plaquenil alone. Quinacrine tablets are no longer manufactured and can only be obtained through a compounding pharmacist.
(Editors' Note: Since this story was first published, the Food and Drug Administration has issued strong warnings against the use of chloroquine and hydrochloroquine after poisonings and even death from the drugs. On April 24, CNBC reported:
The Food and Drug Administration warned consumers Friday against taking malaria drugs chloroquine and hydroxychloroquine to treat Covid-19 outside a hospital or formal clinical trial setting after deaths and poisonings were reported.

The agency said patients taking the drugs for approved reasons, including malaria or to treat autoimmune conditions like lupus, should continue taking their medicine as prescribed.

The agency also said it became aware of reports of "serious heart rhythm problems" in patients with the virus who were treated with the malaria drugs, often in combination with antibiotic azithromycin, commonly known as a Z-Pak. It also warned physicians against prescribing the drugs to treat the coronavirus outside of a hospital.

"Hydroxychloroquine and chloroquine can cause abnormal heart rhythms such as QT interval prolongation and a dangerously rapid heart rate called ventricular tachycardia," the agency wrote in the notice. "We will continue to investigate risks associated with the use of hydroxychloroquine and chloroquine for COVID-19 and communicate publicly when we have more information.")
Later in the news conference, Trump said, "I just hope that hydroxychloroquine wins," and he pushed people to take the drug, saying, "What do you have to lose? Take it!"
However, Trump is not a physician, and doctors appearing on CNN after the news conference noted that it is dangerous for someone to dispense medical advice without a medical degree. Anyone wishing to use hydroxychloroquine should consult a doctor.
There is no known cure for the coronavirus, which has killed at least 64,557 people, as of April 4, 2020.
The Lupus Foundation of America warns that people who suffer from the autoimmune disease are at a higher risk for the novel coronavirus. For more information on lupus as it relates to COVID-19, you can check out this FAQ:
We're here to be a resource for you throughout the #COVID19 pandemic.

Check out our updated FAQ to get the answers to some of the most-asked questions from the #lupus community about #coronavirus.

-- Lupus Foundation of America · #WithoutMyHCQ (@LupusOrg) April 4, 2020
2020-04-24T22:27:53Z

2020-04-24T22:27:53Z

Updates story with warnings from the Food and Drug Administration over the use of chloroquine and hydrochloroquine to battle the coronavirus.