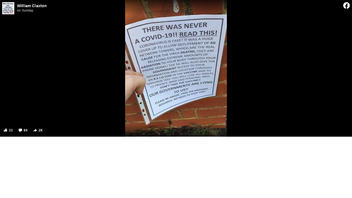 Is the coronavirus fake and actually a governmental cover-up to allow the deployment of 5G network towers? And is the radiation from those 5G towers the real cause of virus deaths? No, none of that is true: A post being shared is filled with dangerous and factually incorrect information. For one thing, the coronavirus is spreading in places that do not have the fifth-generation wireless technology. It is yet another in a long list of conspiracy theories tied to 5G to spread fear.
The claim originated in a post (archived here) published on Facebook by William Claxton on April 5, 2020. It opened:
THERE WAS NEVER A COVID-19!! READ THIS!

CORONAVIRUS IS FAKE! IT WAS A HUGE COVER UP TO ALLOW DEPLOYMENT OF 5G NETWORK TOWERS, WHICH ARE THE REAL CAUSE FOR THE VIRUS DEATHS, THEY ARE RELEASING EXTREME AMOUNTS OF RADIATION TO YOUR BODY THROUGH YOUR PHONE SIGNAL! THE 5G WILL ALSO GIVE THE GOVERNMENT ACCESS TO YOUR INFORMATION AND LOCATION THROUGH AN R.F.I.D CHIP IN THE VACCINE SAID TO IMMUNIZE YOU. YOU WILL LOSE ALL RIGHTS TO PRIVACY, BANK AND PERSONAL INFO.
DON'T TAKE THE VACCINE!!
OUR GOVERNMENTS ARE LYING TO US!!
PLEASE BE AWARE. PASS THE MESSAGE.
RESEARCH. WE NEED TO STOP THIS!
This is what the post looked like on Facebook at the time of writing:
The post has generated more than 1,800 shares on Facebook as of April 5, 2020, even though it is filled with inaccuracies and startling suppositions.
The novel coronavirus, which is also known as COVID-19, is very real and has resulted in the deaths of more than 68,169 people at the time of publication. To suggest the coronavirus is fake goes against the conclusions of the worldwide medical and scientific community.
As we have noted previously, the Centers for Disease Control and Prevention said human coronaviruses were first identified in the mid-1960s. The CDC listed seven types that can infect humans:
229E (alpha coronavirus)
NL63 (alpha coronavirus)
OC43 (beta coronavirus)
HKU1 (beta coronavirus)
MERS-CoV (the beta coronavirus that causes Middle East Respiratory Syndrome, or MERS)
SARS-CoV (the beta coronavirus that causes severe acute respiratory syndrome, or SARS)
SARS-CoV-2 (the novel coronavirus that causes coronavirus disease 2019, or COVID-12)
Lead Stories has also previously debunked claims that coronavirus cases are linked to the rollout of 5G, or that it was a cover-up for a weapon deployment. All of those rumors are false.
The post also said the deaths are due to radiation through people's phone signals. That is impossible considering Apple, for example, does not offer an iPhone that is capable of supporting the 5G signals. There are more than 900 million iPhones in the world, according to one tech blog, so it seems illogical to suggest the only deaths have occurred to people with other phones that are 5G capable.
Further, older people with underlying health problems are more likely to die of COVID-19, according to a report by the BBC. It is implausible to assume many of these older people also had 5G smartphones.
Lead Stories previously consulted with Dr. Payam Heydari, Ph.D., a professor of electrical engineering at the University of California, Irvine, who said that health concerns about 5G are unfounded:
People should not be really concerned for the following reasons: despite the fact that these wireless companies such as Verizon, AT&T and the backbone hardware companies, such as Apple, Broadcom, Qualcomm, they're advertising that 'Oh, 5G is totally new, it's nothing compared to 4G or other standards,' let me tell you what. When it comes to user-to-user communication, there is not much difference really when it comes to the frequency usage. The bandwidth per user will increase, of course. But there is not much difference. Think about it: the big semiconductor and high-tech companies are not ready to completely revolutionize the wireless infrastructure by just abandoning the (existing) cell phones and just use another completely different cell phone.
As we reported before, there are many coronavirus cases in places that do not currently have 5G wireless technology. An article in PCMag noted this point:
COVID-19 is spreading in places that do not have 5G. Japan, one of the virus hotspots, does not currently have 5G. Iran, another major hotspot, does not have 5G. Malaysia, another hotspot, does not have 5G. And so on. There is no correlation between increased spread and the presence of 5G. Italy has 5G and the virus went wild; Iran does not, and the virus went wild.
Perhaps the most dangerous part of the post is the advice not to take a vaccine for the coronavirus.
Currently, there is no known cure for COVID-19. Still, dozens of companies and research institutions are racing against the clock to develop a vaccine to help prevent people from being sick and to stop the spread of the coronavirus.
The Guardian interviewed Annelies Wilder-Smith, professor of emerging infectious diseases at the London School of Hygiene and Tropical Medicine, who said:
Like most vaccinologists, I don't think this vaccine will be ready before 18 months.
The suggestion that people should not take the vaccine once it is viable is only going to result in more suffering and deaths.
PolitiFact has already debunked claims that the United States is developing a chip to track people's movements.
Bottom line: This post is filled with factually incorrect and potentially life-threatening information. The novel coronavirus is very real, and healthcare workers around the world are risking their lives every day to treat people who have contracted COVID-19. The virus is spreading in many places that currently do not have 5G cellular technology.
The post joins a growing list of 5G-related conspiracy theories that are being shared to scaremonger the public. You can read more of our fact checks on the topic here: