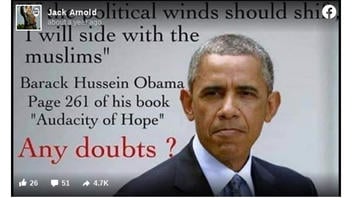 Did Barack Obama write "If the political winds should shift, I will side with the muslims" in his book titled "Audacity of Hope"? No, that's not true: This exact quote does not exist in the book and is a misrepresentation of what he was explaining in the text paraphrased from page 261. It was first wrongly credited to Obama during the 2008 presidential race in an e-mail chain.
This quote resurfaced on Facebook in a meme in mid-April 2020 from a post (archived here) that had been posted a year before on April 14, 2019, by Jack Arnold. This version of the meme reads:
"If the political winds should shift, I will side with the muslims"
Barack Hussein Obama
Page 261 of his book
"Audacity of Hope"
Any doubts?
This is what the post looked like on Facebook at the time of writing. It has been shared 4,700 times.
The false quotation seems to have originated from a viral chain e-mail that circulated prior to the 2008 presidential election. This e-mail contained not just one, but several inaccurate quotes that the e-mail claimed were drawn from two of Barack Obama's books. The two books are "Dreams from My Father: A Story of Race and Inheritance" published in 1995, and "The Audacity of Hope: Thoughts on Reclaiming the American Dream" from 2006. The claims from that original chainmail were debunked by several fact-checking organizations in 2008.
It is likely that the Facebook "memories" feature caused the meme to resurface and go back into circulation in 2020 when some users were shown a review of what they had posted on that day in 2019. Some shares of this post into groups went on individually to gather hundreds of new shares in 2020.
Here is a sampling of several people's recent shares of Jack Arnold's 2019 post. The meme was put into an assortment of Facebook groups on April 15, 2020. The renewed interest in the content continued for several days.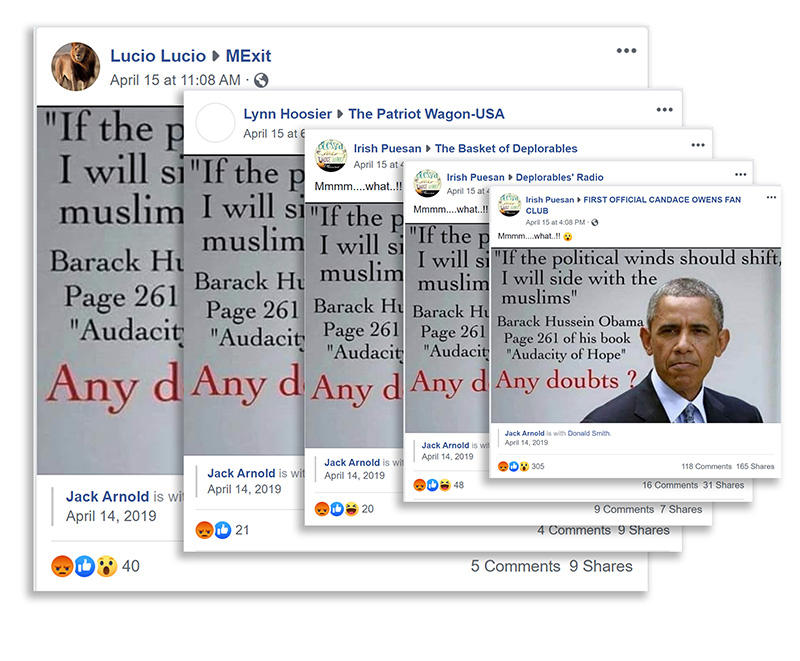 In other memes, on Facebook, Twitter, Pinterest, and YouTube, this false quote has been presented with the phrasing reversed:
I will stand with the Muslims should the political winds shift in an ugly direction.
Here is a sampling of images presenting the false quote applied in different ways: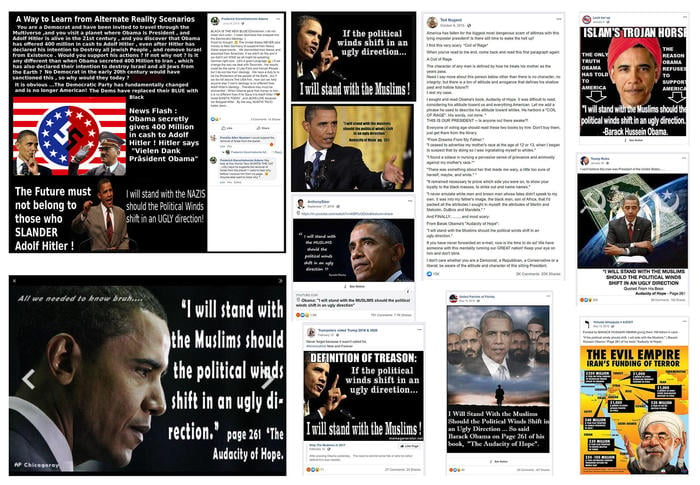 The meme in the upper left is making an analogy based off the phrasing of the false quote. To be clear, that meme does not allege that Barack Obama said, "I will stand with the Nazis..." It is using a rewording of the famous false quote to try to illustrate a point.

Below is a photo of page 261 in the book "Audacity of Hope" in which Barack Obama writes:
"In the wake of 9/11, my meetings with Arab and Pakistani-Americans , for example, have a more urgent quality, for the stories of detentions and FBI questioning and hard stares from neighbors have shaken their sense of security and belonging. They have been reminded that the history of immigration in this country has a dark underbelly ; they need specific assurances that their citizenship really means something, that America has learned the right lessons from the Japanese internments during World War II, and that I will stand with them should the political winds shift in an ugly direction."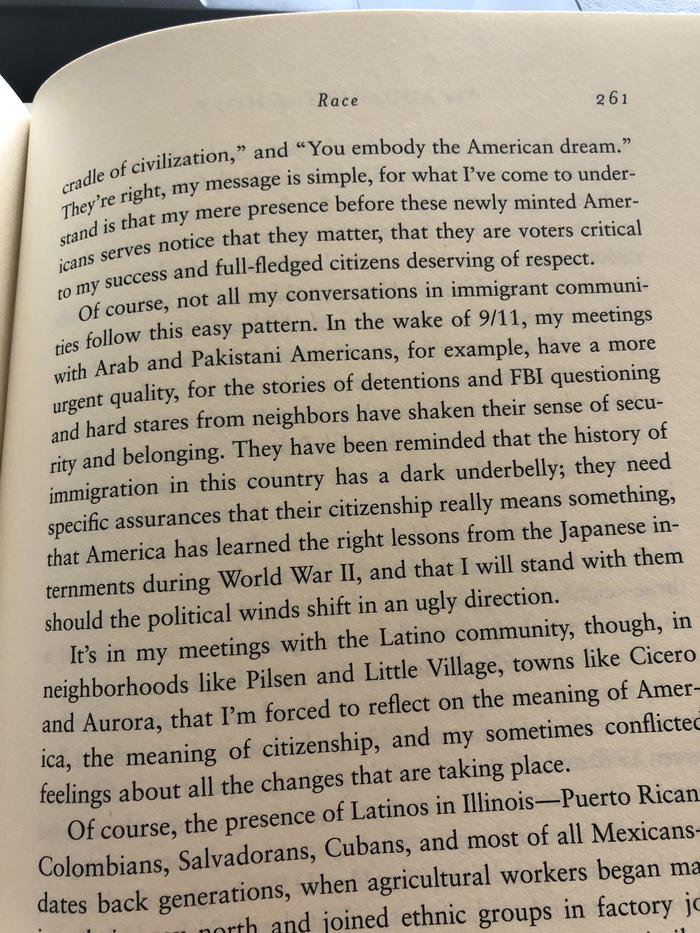 Fact-checks about the original chainmail were issued on May 21, 2008, by Snopes (here), on June 3, 2008, by Factcheck.org (here). On June 10, 2008, Politifact published two articles, about the quote (here) and the chainmail (here).
Despite having been thoroughly debunked, and despite many commenters offering links to those fact-checks, variations of the false quote continue to cycle on social media. On October 6, 2015, a version of the chainmail (archived here) resurfaced and has continued to be shared from the verified Facebook account of Ted Nugent. In four-and-a-half years it has been shared 20,000 times. The shares seem to cycle annually in the first week of October. In this screenshot showing October shares in 2018, it's noted that these people are sharing something they posted at least once already in the past.