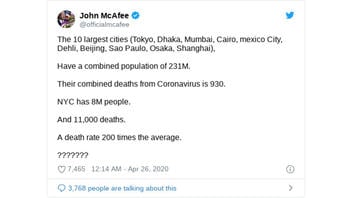 Is the rate of coronavirus-related deaths being reported out of New York City 200 times higher than the death rates of the world's largest 10 cities? No, that's not true: A meme making the claim uses inaccurate numbers for the total deaths in the 10 cities and it does not specify the period of time for which the rate is measured. New York City has recorded a far higher number of deaths in proportion to population, but the number of confirmed COVID-19 cases is also higher. The level of testing and guidelines for counting deaths related to it vary between the cities, accounting for a difference in accounting.
The claim apppeared in a tweet published on April 26, 2020 by John McAfee (archived here) which said:
"The 10 largest cities (Tokyo, Dhaka, Mumbai, Cairo, mexico City, Dehli, Beijing, Sao Paulo, Osaka, Shanghai), Have a combined population of 231M. Their combined deaths from Coronavirus is 930. NYC has 8M people. And 11,000 deaths. A death rate 200 times the average. ???????"
This is what the post looked like on Twitter at the time of writing:
This post was then shared by others, including Amiri King, who introduced the tweet with these words:
Things that make you go hmmmm.
Here's how that post appeared on social media:
McAffee shares in his thread that he relied on population numbers provided by worldatlas.com. That source does, in fact, list those 10 cities as the most populated in the world with one exception: New York, which ranked no. 10 with a population of 18,593,220 -- more than Dhaka and much more than the 8 million McAfee references. Granted, that number used by worldatlas.com includes the metropolitan region and not just NYC itself. The population of NYC is approximately 8.5 million, according to city data.
Nailing down the death rates for the global cities is a little complicated. To calculate a "rate," you must have a period of time for which it is measured. As a car's speed is measured in kilometers or miles per hour, a death rate should include a time.
And then there are the issues of underreporting in China and lack of thorough testing overall. If one region is doing more testing than another, then it is not accurate to compare their rates of deaths attributed to the disease.
BBC.com examined the question in a story titled Coronavirus: Why death and mortality rates differ.
This confusion can make countries' numbers look vastly different, even if their populations are dying at the same rate. There are, in fact, two kinds of fatality rate. The first is the proportion of people who die who have tested positive for the disease. This is called the "case fatality rate". The second kind is the proportion of people who die after having the infection overall; as many of these will never be picked up, this figure has to be an estimate. This is the "infection fatality rate".

In other words, the case fatality rate describes how many people doctors can be sure are killed by the infection, versus how many people the virus kills overall, says Carl Heneghan, an epidemiologist and director of the Centre for Evidence-Based Medicine at the University of Oxford..
McAfee claims on Twitter that his source for coronavirus numbers was the World Health Organization. But WHO breaks the numbers down by country, not city. For example, here's how Germany comes up in the COVID-19 search on WHO's website.
Below is what we were able to determine for each city in McAfee's post, with links to our sources (though not all are up to date), in the order he listed them:
Tokyo, Japan: 4,568 confirmed cases; 141 deaths; death rate of 3.1%
Dhaka, Bangladesh: City-specific figures aren't readily available, but Bangladesh reports 9,455 confirmed cases; 177 deaths; death rate of 1.9%
Mumbai, India: 6,457 confirmed cases; 270 deaths; death rate of 4.2%
Cairo, Egypt: City-specific figures aren't readily available, but Egypt reports 6,193 confrimed cases; 415 deaths; death rate of 6.7%
Mexico City, Mexico: 5,209 confirmed cases; 409 deaths; death rate of 7.9%
Delhi, India: 4,549 confirmed cases; 64 deaths; death rate of 1.4%
Beijing, China: 593 confirmed cases; 9 deaths; death rate of 1.5%
Sao Paulo, Brazil: City-specific figures are not readily available, but figures for the state (not city) of Sao Paulo are 31,772 confirmed cases; 2,627 deaths; death rate of 8.3%
Osaka, Japan: 1,666 confirmed cases; 46 deaths; death rate of 2.8%
Shanghai, China: 655 confirmed cases; 7 deaths; death rate of 1.1%
The number of deaths from COVID-19 was 4,165 in these 10 regions, not 930. The numbers Sao Paolo, Dhaka, and Cairo -- appeared to include areas outside the cities.
The number of confirmed deaths in New York City for the same period is 13,538.
Offficial data out of NYC says, at the time of this writing, that there have been 168,845 confirmed cases of COVID-19. To figure out the case death rate, we divide the deaths by the confirmed cases (13,538/168,845) and get 0.080. We then move the decimal point over two numbers to the right and get the 8% death rate for NYC.
McAfee, an eccentric computer programmer who made millions after developing an anti-computer-virus software bearing his name, has lived a life marked by scandal. He's spent time as a fugitive and been accused of rape and murder. He was the subject of a 2016 Showtime documentary titled, "Gringo: The Dangerous Life of John McAfee."
Recently, he's helped fuel misinformation about the coronavirus. He was one of the many people highlighted in an article from The Verge about Twitter fighting back. The March 16, 2020, article, titled "Twitter takes down coronavirus tweets from John McAfee, David Clarke, and others," began this way:
Twitter has removed several tweets by prominent accounts that made misleading claims about the novel coronavirus pandemic, as the company says it's following a 'zero-tolerance approach to platform manipulation and any other attempts to abuse our service at this critical juncture.'"
The McAfee tweet that was targeted for removal posted on March 13, 2020, (archived here). It said, among other things, "Coronavirus cannot attack black people because it is a Chinese virus." That claim is both bogus and offensive, as deaths in the African-American community have far outpaced any other.