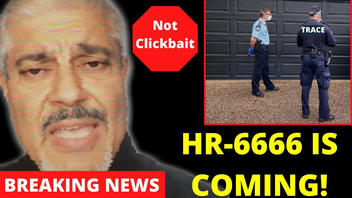 Does House Resolution 6666 provide funds to forcibly removed people with COVID-19 from their homes as Dr. Rashid Buttar claims in videos? No, that is not true: HR 6666 would not mandate that citizens be removed from their homes if they test positive for COVID-19. LeadStories.com has debunked the claim about the bill, reporting that it requests funding to improve Americans' health through mobile testing units in medically underserved areas.
The claim originated as a video published by YouTube on May 11, 2020, titled "Dr. Rashid Buttar URGENT! Full Disclosure From INSIDE| HR 6666 IS COMING!" (archived here) which opened:
They don't want the truth to be told about the HR666 resolution that is coming within the next few weeks, The full disclosure INSIDE!. Please share before they ban this immediately (Dr. Rashid Buttar will not be silenced) IF YOU THINK YOU CAN HANDLE THE TRUTH, HERE IT IS!!! |
Click below to watch the video on YouTube:
Buttar uses information from an actual bill that was introduced in Congress to claim that the government is rolling out a plan to forcibly remove people from their homes if someone tests positive for coronavirus.
Let's break his claims down.
Buttar warns his viewers about HR 6666 with ominous music in the video.
"This is regarding a House resolution that was initiated on May 1st of this year. 6666. That is not an exaggeration I have no idea how that works."
Bills in both the House and Senate are generated automatically and this was just the next number in the sequence.
Buttar states in his video the name of the bill is for "Covid-19 testing, reaching and contacting everyone act. The acronym is TRACE Act. Trace act stands for Testing, Reaching and Contacting Everyone." That is true and can be found in the language of the bill here.
Buttar describes what he believes to be the details of the bill:
It was introduced by Bobby Rush, a Democrat from the state of Illinois.
They have introduced this bill into the House, and they are going to roll this out from a testing standpoint in Ventura County, California, which happens to be where I am at right now. Basically, this act is to allow individuals to come into your house and if you have a cough or somebody in your family has a cough or you have a fever or anything that they determine that shows that you have COVID-19...

They're going to use that to pull you or your loved ones, especially your children, away under pretense of public safety. They're going to say that your child has to be removed from you because you have COVID-19 and so to protect your child we are going to take that child. Or we're going to take your grandmother or your father or you and put you into quarantine.

And put you into quarantine. Regardless if you've been tested or not, they will also test people but remember testing has already shown there to be a high rate of false positives."
Buttar's claims of the bill allowing people to be forcibly removed from their house are false.
LeadStories.com debunked the claims that Ventura County, California, would be forcibly removing people from their homes.
On May 5, 2020, the Ventura County Department of Health Director Dr. Robert Levin spoke about the county's contact tracing plan.
As we do more testing, we will find more and more people who have COVID-19 and again, we will isolate every one of them and we will find every one of their contacts and we will make sure that they stay quarantined. And we will check in with them every day."
His comments went viral with people furious after interpreting his remarks to mean infected residents would be forcibly removed from their home.
The Ventura County Health Department confirmed to LeadStories.com that Ventura County was not forcibly removing people from their homes.
"We can assure you that is not what is going to happen," the spokesperson explained on May 8, 2020. "They are not going to be forcibly taking people out of their homes. The county has places available to quarantine but that is up to them."
The department clarified that the places the county has available would be "hotels" and there would be no cost to the people that choose to leave their homes and quarantine at an outside location.
"That is part of the process that the county is providing."
The Health Department issued a clarification on May 8, 2020.
As for Buttar, he describes his credentials on his own website:
Dr. Rashid A. Buttar is a graduate of the University of Osteopathic Medicine and Health Sciences, College of Medicine and Surgery. He trained in General Surgery and Emergency Medicine and served as Brigade Surgeon and Director of Emergency Medicine while serving in the U.S. Army. Dr. Buttar is board certified in Clinical Metal Toxicology and Preventive Medicine; is board eligible in Emergency Medicine and has achieved fellowship status in three separate medical societies.

However, HuffingtonPost.com called Buttar a "widely discredited osteopath," with a long list of reprimands he has received.
The North Carolina Medical Board formally reprimanded him in 2010.
BUTTAR, Rashid Ali, DO Location: Huntersville, NC (Mecklenburg Co) License #: 0095-00528 | Specialty: General Prev. Medicine (as reported by physician) Cause: Dr. Buttar mailed a quantity of transdermal medication to the parents of an out-of-state pediatric patient without first personally examining the patient. Treating this patient without personally performing an examination was a violation of the Medical Practice Act. In addition, Dr. Buttar provides a number of treatments to cancer patients that have not been proven effective by randomized, double-blind placebo controlled clinical trials. The Board is concerned that Dr. Buttar's cancer patients may have unrealistic expectations regarding the efficacy of Dr. Buttar's treatments. Action: 03/26/2010. Consent order executed: Dr. Buttar is reprimanded. He shall provide an informed consent to treatment form approved by the Board to all patients.

The Food and Drug Administration sent him a warning letter in 2013.


Your products are manufactured, marketed, and distributed in violation the Federal Food, Drug, and Cosmetic Act ("the Act") as described herein.
Reputable outlets have fact-checked Buttar's claims as his popularity has grown amid the coronavirus outbreak.
Reuters has reported on two videos he has posted that have false claims in them, here and here.
TechnologyReview.com wrote about Buttar's false claims going viral on the internet with coronavirus conspiracies.