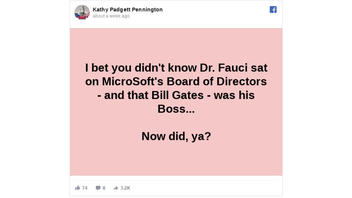 Did Dr. Anthony Fauci serve on the board of directors of tech giant Microsoft, and was MIcrosoft co-founder Bill Gates Fauci's boss? No, this is not true. Fauci, one of the leaders on the White House Coronavirus Task Force, never served on the board. Fauci and Gates are linked in that they both support, and have worked together on, vaccines and other health issues. Microsoft confirmed that Fauci has never been a board member for the company.
The claim can be found in a meme (archived here) posted on Facebook on May 4, 2020. The meme read:
I bet you didn't know Dr. Fauci sat on MicroSoft's Board of Directors - and that Bill Gates - was his boss...

Now did, ya?
This is what the post looked like on Facebook at the time of writing:
On May 12, 2020, Microsoft confirmed in an email to Lead Stories that Fauci has not served as a board member of Microsoft at any time. Here is the company's board of directors now. Here are Microsoft's SEC filings.
It is true that Fauci, the director of the National Institute of Allergy and Infectious Diseases (NIAID), and Gates have worked together on vaccines, HIV/AIDS and other pressing health concerns. As Reuters noted, in December 2010, for example, the Bill & Melinda Gates Foundation announced the Decade of Vaccines Collaboration. Fauci served on the Leadership Council of the effort.
And, as pointed out by Politifact, they worked together in 2003 when Fauci served on the scientific board of another Gates foundation initiative:
The Bill & Melinda Gates Foundation today announced a $200 million grant to establish the Grand Challenges in Global Health initiative, a major new effort and partnership with the National Institutes of Health (NIH). The initiative will identify critical scientific challenges in global health and increase research on diseases that cause millions of deaths in the developing world. Today only 10 percent of medical research is devoted to the diseases that cause 90 percent of the health burden in the world, according to the Global Forum on Health Research.
In fact, a search of press releases from the Bill & Melinda Gates Foundation returns several results for Fauci's name and work with the foundation.
Fauci's bio on the National Institutes of Health, says this about his being named to head the NIAID:
Dr. Fauci was appointed Director of NIAID in 1984. He oversees an extensive research portfolio of basic and applied research to prevent, diagnose, and treat established infectious diseases such as HIV/AIDS, respiratory infections, diarrheal diseases, tuberculosis and malaria as well as emerging diseases such as Ebola and Zika. NIAID also supports research on transplantation and immune-related illnesses, including autoimmune disorders, asthma and allergies. The NIAID budget for fiscal year 2020 is an estimated $5.9 billion.

Dr. Fauci has advised six Presidents on HIV/AIDS and many other domestic and global health issues. He was one of the principal architects of the President's Emergency Plan for AIDS Relief (PEPFAR), a program that has saved millions of lives throughout the developing world.
Fauci -- who testified about the coronavirus pandemic before the Senate on May 12, 2020 -- and Gates have jointly been accused, along with others, of unsubstantiated population-control conspiracies and a general bid to take over humanity.
As for Gates, he stepped down from Microsoft's board on March 13. He had stepped down as chief executive of the company in 2000, and left as Microsoft's chairman in 2014. He is currently a technology adviser to the current CEO, Satya Nadella.