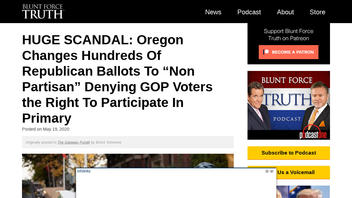 Did Oregon change hundreds of Republican ballots to non-partisan, thus denying Republican voters the right to participate in the state's primary? No, that's not true: Oregon voters received the non-partisan ballots because they never took the second step of declaring a party affiliation, a spokeswoman for the Oregon secretary of state told Lead Stories. The procedure would affect Democrats, as well as Republicans.
The claim originated as individual complaints on social media that were then reported in an article (archived here) by BluntForceTruth.com on May 19, 2020 under the title "HUGE SCANDAL: Oregon Changes Hundreds Of Republican Ballots To 'Non Partisan' Denying GOP Voters the Right To Participate In Primary." It opened:
Disturbing news is coming out of Oregon, as hundreds of people are reporting that their voter registration was switched from Republican to non affiliated without their knowledge or permission.
Oregon is entirely vote-by-mail, and ballots were sent out in the last week of April, and due this Tuesday at 8:00 PM. Many were shocked to open their ballot to find that they were no longer with the party they thought they were with, and they received non partisan ballots. As Oregon is a closed primary state, this effectively denies these people the right to vote in the party's primary that they thought they were registered as.
This is only reportedly happening to folks who were registered as Republican.
The story went viral after an article cited a group of people on Facebook claiming they did not receive a Republican ballot to vote in the May 19, 2020, primary and instead were given "non-partisan" ballots against their wishes. The Oregon secretary of state denied changing citizens' party registration and told LeadStories.com that the claims that their party affiliation was changed against their wishes is "misinformation."
The BluntforceTruth.com article came from information published by The Gateway Pundit on May 18, the day before the primary, which shared details about the Facebook posts.
My Party Was Changed is the Facebook page with multiple examples of people claiming that their registration was Republican, but they received ballots with only "non-partisan" voting options, not allowing them to vote in the Republican primary.
The description of the group includes:
Was your political party changed without your permission? Have you had a recent trip to the DMV or did you change it on the Secretary of State website and it reverted or completely. changed? We are hoping if enough people speak up there can be some changes with education, websites, oversight.
The group was created on May 8, 2020, and claims over 1,100 members.
Oregon is a closed-primary state and voters must be registered with a party to vote in that party's primary race. Each party chooses if those registered as non-partisan can cast ballots in their primaries.
Oregon secretary of state spokeswoman Andrea Chiapella denied that there was any malfeasance with regard to party registration being changed:
Statements online that say that party has been changed against their wishes is misinformation and our Elections Director is trying to work with Facebook and Twitter to have it deemed as such and removed.
Chiapella said her office received questions about the claims:
I have gotten inquiries from people who thought they were Republican and who thought they were Democrat but were actually nonaffiliated. There hasn't been any consistent reason as to why they thought they were registered with a party and were not, some of it has been simple misreading of their ballot. Seeing 'non-partisan' on their ballot for the nonpartisan candidates and thinking that there weren't any partisan candidates.
She explained the process of voter registration in Oregon:
We have an automatic voter registration system that automatically marks people as nonaffiliated, we then send them a letter with a returnable postcard asking if they want to opt out or declare a party, if they don't return that or change their party online or on our paper forms, then they remain non-affiliated. I don't know if that is what is happening, but it might be in some cases.
Chiapella said it was not just Republicans complaining:
We have gotten a few requests to look into what might have happened with some individuals and their party registrations. We haven't found any improper changes though. It is fair to say that we get a handful of these complaints every two years during a primary and none have ever shown evidence that the political party was fraudulently changed. We have looked into cases that involve members of both major parties.
One Facebook commenter said they reached out to the Jackson County clerk of court. Jackson County clerk of court Chris Walker told Lead Stories her office had "lots of phone calls," from people complaining about their ballots, but there were only two instances in their county where there was an internal mistake because of an error in an address. She said she did not see "anything that looked unusual."
Walker said the issue arises during primary elections. The secretary of state office handles the claims of party change, not the counties, since people registered though the Department of Motor Vehicles when they get their driver licenses. Walker told Lead Stories there were "no actual cases that we had in this county of this happening."
Gateway Pundit noted that the "confusion" in the situation may lie with the way the DMV registers voters.
According to the secretary of state's website, the voter registration law changed in January 2016 and the new system is explained here:
Under the old system, most Oregonians needed to take a separate step to register to vote at the DMV after obtaining or renewing their driver license. This law makes voter registration automatic, shifting from an opt-in process to an opt-out process. It eliminates the need to fill out the voter registration card for those with qualifying interactions at the DMV. Instead, eligible Oregonians will receive a mailing from the Oregon Elections Division explaining their options for registering to vote.
There is a second step that needs to be taken to be registered to vote in a specific party, according to the secretary of state's website:
Will I be automatically registered to a political party?
No. The default is that you will be registered as a nonaffiliated voter (not a member of a political party). The Oregon Motor Voter notification (OMV Card) you receive in the mail will give you the option of affiliating with a party.
Similar confusion over party affiliations happened ahead of California's primary when ballots were mailed last January. Read Lead Stories' reporting on that in this debunk: Fake News: Republican IS Offered As A Choice In California's 2020 Presidential Primary, But Only For Republicans