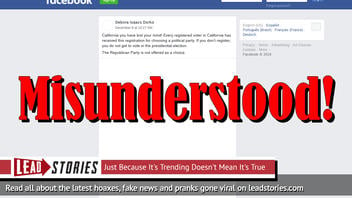 Did California omit the Republican Party as a choice in that state's 2020 presidential primary? No, that's not true: Any citizen registered as a Repubican can vote in the GOP primary. Voters who did not specify a party preference on their voter registration received a mailing in December of 2019, giving them the option of voting in the Democratic Party, American Independent Party, Libertarian Party, or non-partisan primaries. The Republican Party declined to be included in the choices, so that only citizens who were registered as Republicans could cast ballots in the GOP primary. The Democratic Party agreed to allow voters who listed no party preference to get Democratic ballots.
The absence of a choice to receive a Republican ballot triggered suspicisions on social media of voter suppression engineered by the Democrat-controlled state government. The claim spread across social media in December, including in a post (archived here) published on December 8, 2019, showing the election mailing with the added message:
California you have lost your mind! Every registered voter in California has received this registration for choosing a political party. If you don't register, you do not get to vote in the presidential election.

The Republican Party is not offered as a choice.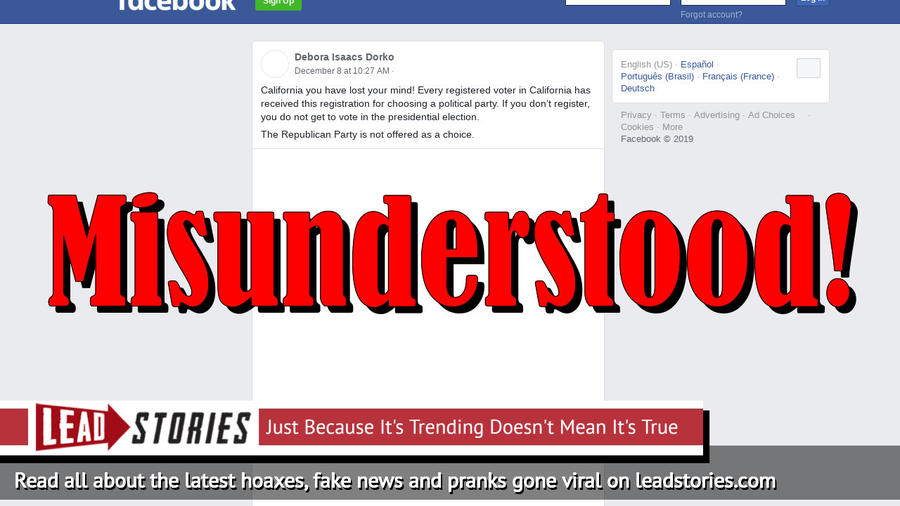 This is what social media users saw:
The misunderstanding was even referenced by Anonymous in a Qanon drop suggesting a California Democrat conspiracy against President Trump.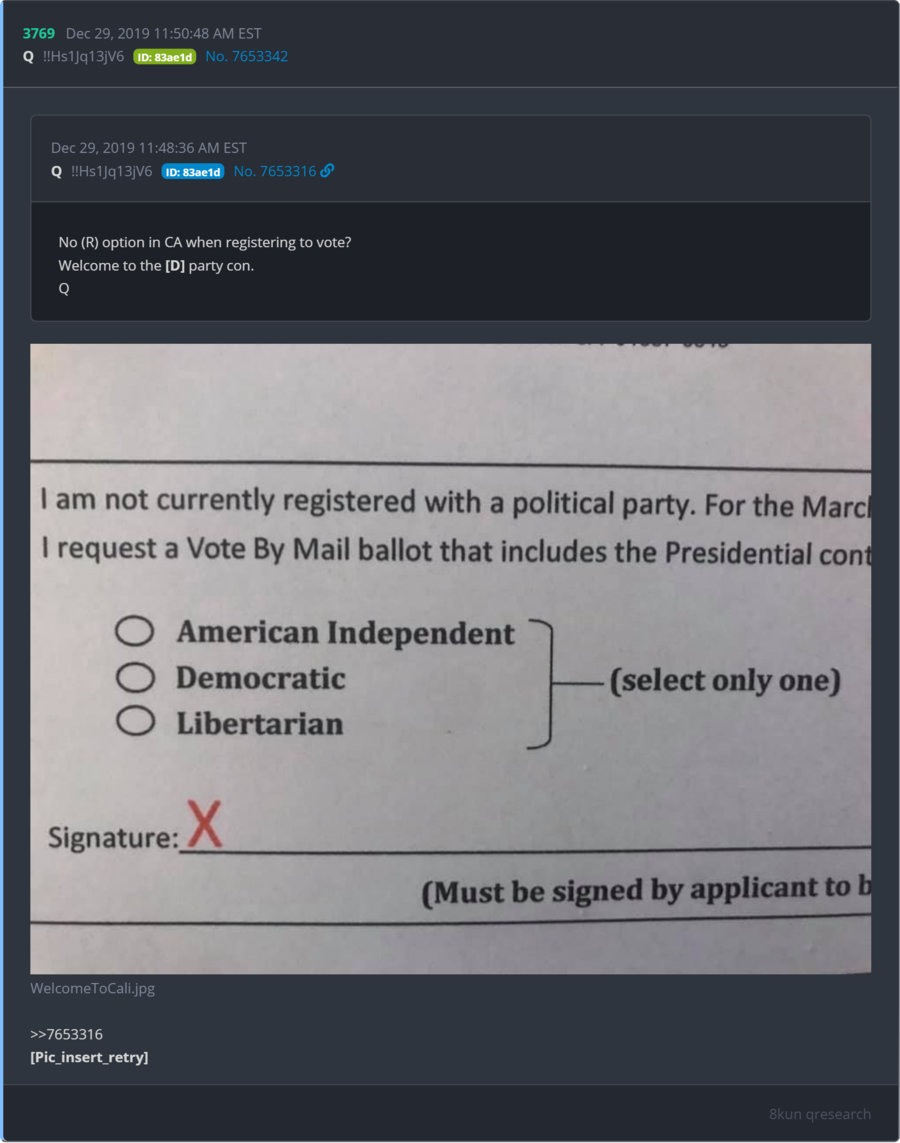 Anonymous also linked to this tweet:
Ok, this is Nuts. I rec'd this in the mail. Note on the OUTSIDE, that there is NO choice to pick Republican...but open it up and oh look, there it is. This is corrupt Calif govt @TomFitton pic.twitter.com/mVUlJdOljU

-- NS 🇺🇸 (@lannymc) December 18, 2019
The California Republican Party decided to have a closed primary, while the Democrats will hold an open primary. California election officials, on their website, explain the state's "modified" closed primary:
California's current "modified" closed primary system for Presidential elections was chaptered on September 29, 2000 and took effect on January 1, 2001. Senate Bill 28 (Ch. 898, Stats. 2000) implemented a "modified" closed primary system that permitted voters who had declined to provide a political party preference (formerly known as "decline to state" voters) to participate in a primary election if authorized by an individual party's rules and duly noticed by the Secretary of State.
Redding, California, TV station KRCR explained the confusion in a report titled Here's why you may have gotten a card about the election, without a Republican option:
If a California voter wants to vote in the Republican Primary, they can revise their party preference information here.