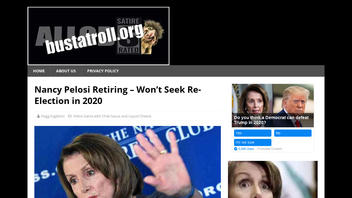 Is House Speaker Nancy Pelosi retiring and bowing out of the November election? No, that's not true. This is satire by a publisher who is notorious for trolling Trump supporters and Republican readers with sensational claims, mostly about Democrats. These articles are often repeated by websites that post them as truth without the proper satire warnings.
The original story appeared as an article (archived here) where it was published by Bustatroll.org, a division of the satirical group ALLOD on Aug. 5, 2019, under the title "Nancy Pelosi Retiring - Won't Seek Re-election in 2020." It opened:
Nancy Pelosi's office spent the day denying what her own daughters spilled earlier this week at a kegger in San Dimas: Speaker Pelosi will NOT be seeking another term as a U.S. Congresswoman. According to Brandon Kyle, a friend of Cassandra Pelosi: She totally said her mom was retiring. Like...30 people heard it.
The page looked like this at the time of writing:
The satirical story continued:
Her sister Marisol was upstairs doing that thing she does with a Zagnut and confirmed it to at least 16 girls and one undecided that we know of."When asked how credible the source was, we were told "regardless of how credible the source is, the information is true," which explains everything. The mainstream media has been told not to report it. That won't stop the truth from getting out, however, as more people find Cassie's story and hunt down Kyle. Our own investigator in the field, Skip Tetheluda, says he found the sources to be fully credible: "I went expecting to find a bunch of losers looking to score some cash on inside info and instead found a bunch of complete idiots who didn't understand how valuable their information was. I sat and burned one with Mikey and Rich and they gave me the whole scoop. Yeah, she's retiring all right."
In fact, Nancy Pelosi is running to keep her California Congressional seat -- she is on the ballot, and her campaign website clearly shows she is still running.
In the latest financial reporting cycle, Jan.1 - March 31, 2020, records show Pelosi gave $10,000 to the campaign war chests of 27 Democrat House members running for re-election, a sign that she is trying to maintain her popularity and keep her job as House speaker, which is an elected position by the members of the House of Representatives.
The 2020 Democratic primary for California's 12th Congressional District made her the clear Democrat winner with 72.5 percent of the vote over her nearest competitor, Shahid Buttar with 12.7 percent. Two Republican rivals will be running against Pelosi in November 2020.
But readers who miss the satire (a college kid's kegger being a responsible source?) may take the story seriously. Also telling is that the names of Pelosi's daughters in the Bustatroll story are fake. There is no Marisol or Cassandra. The real Pelosi daughters are named Christine, Jacqueline, Nancy Corinne and Alexandra.
Bustatroll.org is part of the "America's Last Line of Defense" network of satire websites run by self-professed liberal troll Christopher Blair from Maine along with a loose confederation of friends and allies. He runs several websites and Facebook pages with visible satire disclaimers everywhere. They mostly publish made-up stories with headlines specifically created to trigger Republicans, conservatives and evangelical Christians into angrily sharing or commenting on the story on Facebook without actually reading the full article, exposing them to mockery and ridicule by fans of the sites and pages.
Every site in the network has an about page that reads (in part):
About Satire
Before you complain and decide satire is synonymous with "comedy":

sat·ire
ˈsaˌtī(ə)r
noun
The use of humor, irony, exaggeration, or ridicule to expose and criticize people's stupidity or vices, particularly in the context of contemporary politics and other topical issues.

Everything on this website is fiction. It is not a lie and it is not fake news because it is not real. If you believe that it is real, you should have your head examined. Any similarities between this site's pure fantasy and actual people, places, and events are purely coincidental and all images should be considered altered and satirical. See above if you're still having an issue with that satire thing.
Articles from Blair's sites frequently get copied by "real" fake news sites who omit the satire disclaimer and other hints the stories are fake. One of the most persistent networks of such sites is run by a man from Pakistan named Kashif Shahzad Khokhar (aka "DashiKashi") who has spammed hundreds of such stolen stories into conservative and right-wing Facebook pages in order to profit from the ad revenue.
When fact-checkers point this out to the people liking and sharing these copycat stories some of them get mad at the fact checkers instead of directing their anger at the foreign spammers or the liberal satire writers. Others send a polite "thank you" note, which is much appreciated.
NewsGuard, a company that uses trained journalist to rank the reliability of websites, describes bustatroll.org as:
One in a network of sites that publish false stories and hoaxes that are often mistaken for real news, run by hoax perpetrator Christopher Blair.
According to NewsGuard the site does not maintain basic standards of accuracy and accountability. Read their full assessment here.