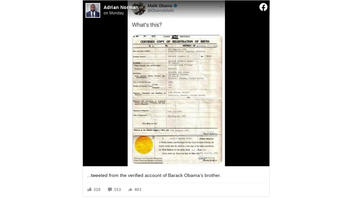 Did Barack Obama's half brother tweet the former president's Kenyan birth certificate, proving that he was born Kenya? No, that's not true: The purported birth certificate names the Republic of Kenya, which did not exist until 1964, which is three years after Obama was born. Malik Obama's sister criticized her brother for tweeting the fake document out of jealously.
Malik Obama's tweet (archived here), was posted on June 15, 2020 with the text "What's this?" Here's what it looked like:
What's this? pic.twitter.com/H9HRzro8zZ

-- Malik Obama (@ObamaMalik) June 15, 2020
The tweet was quickly shared on social media, such as this Facebook post which appeared the same day as Malik Obama's tweet:
This is what it looked like at the time of writing:
(Source: Facebook screenshot taken on Wed Jun 17 17:46:45 2020 UTC)
There's a simple fact that refutes the Kenya birthplace claim: Kenya gained its independence from Britain in 1963 -- two years after Barack Obama was born. And the city listed as his birthplace, in the various versions of this false birth certificate, is Mombasa -- which wasn't incorporated into Kenya until 1963. Kenya became a republic in 1964.
Auma Obama is Malik's sister, and Barack's half-sister. And in a Twitter post detailed on a local Kenyan news site she harshly criticized Malik, saying he is so consumed with jealousy and bitterness that he will do anything to slander his younger brother. The article titled The Auma Obama calls out brother Malik over fake Barack Obama birth certificate reads:
Malik took to Twitter late night on Monday to post what has emerged to have been a fake birth certificate of President Obama which indicated that he was born on August 4, 1961 at the Coast General Hospital, Mombasa, in the Republic of Kenya.

KOT were however quick to note that Kenya only became a republic in 1964, hence it was impossible for President Obama to have been born in the 'Republic of Kenya' in 1961.

Others were also keen enough to zoom in and discover that the seal at the bottom of the certificate showing that it originated from the Office of the Principal Registrar of the Coast Province actually read 'Australia' and not Kenya.
Lead Stories has done numerous investigations into these "birtherism" claims. In March of 2019 we debunked the claim that Kenyan authorities had released Obama's "real" birth certificate. The most crucial piece of evidence in that story is Obama's actual birth certificate, also referred to as a "certificate of live birth":
The White House posted a "live birth" document online showing Barack Hussein Obama, II, was born at the Kapiolani Maternity and Gynecological Hospital in Honolulu, Hawaii, on August 4, 1961. See it here on the Obama archives site."
As for the document tweeted by Malik Obama -- it's a fake. A slightly altered version has been floating around the internet since at least August of 2009. That's when Snopes found out this "Kenyan" document was actually a forgery that used an Australian birth registration (apparently pullled from the internet) as its source. The version of this document that Barack Obama's brother shared looks slightly different, but is clearly based on this 2009 forgery.
We've said it before (see below), we'll say it again: President Barack Obama was born in the U.S. state of Hawaii in August 1961 -- not in Kenya.
In 2017, Malik Obama made a previous attempt to push the false story that the former president was born in Kenya. He tweeted an image of a "certificate of birth," allegedly proving that Barack was not born in Hawaii.
Here are other debunks Lead Stories has done, about Barack Obama's birth certificate and early life:
Fake News: Obama's Birth Certificate Does NOT Use Modern Names For African-Americans, Kenya, Hospital Instead Of 1961 Names
Fake News: Kenya: Authorities Did NOT Release Barack Obama's 'Real' Birth Certificate
Fake News: Obama Does NOT FINALLY Admit He Was Born in Kenya, Should Never Have Been President
Fake News: Barack Obama Did NOT Tweet About Asking Ukraine About Birth Certificate
Fake News: Clete Torris NOT Former Attorney General Of Hawaii, Did NOT Say Anything About Obama's Birth Certificate
Fake News: NO Whistleblower: Obama Was NOT Indonesian Citizen & NOT Given Financial Aid As Foreign Student At Occidental College