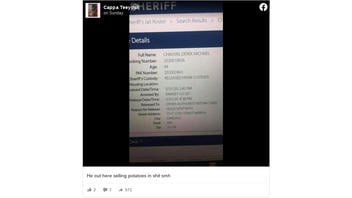 Was Derek Chauvin, the fired Minneapolis police officer charged with murder in the death of George Floyd, released from jail? No, that's not true: Chauvin did leave the original place of confinement, the Ramsey County, Minnesota, jail, on May 31, 2020, but he was just transferred to the Hennepin County jail and finally, that same day, to a secure state prison.
The rumor appeared in a post (archived here) where it was published on Facebook on June 1, 2020, with the text:
He out here selling potatoes in shit smh
This is what the post looked like on Facebook at the time of writing:
(Source: Facebook screenshot taken on Tue Jun 2 18:46:39 2020 UTC)
The rumor of Chauvin's release began after someone posted a copy of the Ramsey County jail roster, which is a record of times that prisoners go in and out of the jail. The Facebook post misinterpreted the document, which states that Chauvin was "released to other authorities," and not just "released." Chauvin had been arrested by the Ramsey County Sheriff's Office, which is why he started out in that county jail.
A secondary false rumor spread that Chauvin had left Minnesota to hole up in his townhouse in Windermere, Florida. The Orange County Sheriff's Office tried to debunk that notion, saying the former policeman wasn't in the home and had no plans to be.
In a May 31 press conference, Commissioner of Corrections Paul Schnell said Chauvin had been moved because of concerns about the coronavirus, as several prisons in Minnesota have seen an outbreak of the virus resulting in dozens of inmates and staff members testing positive. The state of Minnesota has recorded 25,508 cases to date and 1,072 deaths. Among prison staff, 55 cases have been confirmed by testing. Of the 9,381 adults in Minnesota prisons (as of Jan. 1, 2020) across the prison system, 2,500 prisoners so far have been tested, according to the DOC, and 101 tested positive.
Schnell said Chauvin also was moved because authorities were expecting a large crowd of people who were arrested at the protests and were going to be taken to Hennepin County jail for disorder and violence. "The move to DOC custody was made out of an abundance of caution to ensure he is safely held and after concern about space in the jail due to large numbers of arrests related to the unrest over the last few nights," the DOC commissioner said.
The New York Post reported that Chauvin's location is now the Minnesota Correctional Facility, the state's maximum security prions in Oak Park Heights, Minnesota.
Chauvin was charged with manslaughter and third-degree murder, with the third-degree murder category found in only a few states: Maryland, Minnesota, Florida and Pennsylvania. It is also called "depraved heart" murder to reflect cruelty in the commission of the killing.