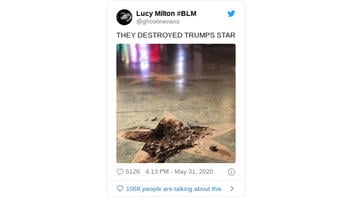 Did protesters destroy Donald Trump's star on the Hollywood Walk of Fame? No, that's not true: A photo of showing damage to Donald Trump's star was taken on July 25, 2018, after a man attacked it with a pickaxe. The star, which was vandalized at least two other times, was restored and in fine condition as of June 2, 2020.
The claim appeared in a tweet (archived here) posted on May 31, 2020, including the #BLM hashtag. The text above the old photo read:
THEY DESTROYED TRUMPS STAR
This is what the post looked like on Twitter at the time of writing:
(Source: Twitter screenshot taken on Tue Jun 2 23:07:02 2020 UTC)
While the tweet did not specifically say who destroyed the star, it was posted on May 31, 2020 -- a day when demonstrators were in Hollywood and Los Angeles, as well as many other cities, protesting the death of George Floyd, who died while his neck was under the knee of a Minneapolis police officer.
The photo appears to have been taken soon after 24-year-old Austin Mikel Clay dug the star out of the sidewalk with a pickaxe on July 25, 2018. Clay posted a video on YouTube at the time saying that it was a "one-man protest" against Trump. "For as long as that star remains on Hollywood Boulevard, there's going to be a really negative presence there," Clay said. Clay was ordered to pay $9,400 to repair the star, serve one day in jail, and stay out of trouble during three years of probation.
Trump's Hollywood star has been controversial since his election to the presidency and has been the source of other false claims. Lead Stories previously published these debunks:
Fake News: SHOWDOWN TONIGHT: Los Angeles City Council May NOT Vote To REMOVE Trump's Walk Of Fame Star
Fake News: LA City Council Did NOT Make Final Decision To Permanently Remove Trump's Walk Of Fame Star