STORY UPDATED: check for updates below.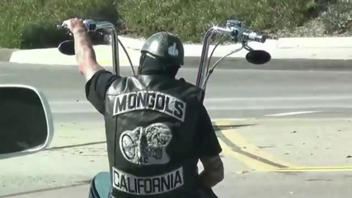 Do a viral video and several viral images show Hell's Angels and Mongols bikers riding to Seattle to scrap with "Antifa Terrorists" at the Capitol Hill Autonomous Zone (CHAZ)? No, that's not true: the footage is at least ten years old and appears to only show bikers belonging to the Mongols MC. The image in the tweet from @_WhiteRabbitt_ dates back from 2018 and shows Hell's Angels in Canada. Other images circulating in connection with the rumor are similarily old or from different locations. No footage or images of both clubs riding together is shown and Sonny Barger, one of the oldest and best known members of the Hells Angels has denied any rumors about an alliance with the Mongols.
The video was published on YouTube channel Only Observer on June 13, 2020 titled "Hell's Angels and Mongols riding together on their way to Seattle to scrap with Antifa Terrorists" (archived here) which lacked any further description.
Click below to watch the video on YouTube:
The video opened with an unverified tweet (archived here) from an account that describes itself as
𝙰𝚗𝚘𝚗, 𝙲𝚒𝚝𝚒𝚣𝚎𝚗, 𝚃𝚛𝚞𝚝𝚑 𝚂𝚎𝚎𝚔𝚎𝚛, 𝙿𝚑𝙳 𝚒𝚗 𝙼𝙰𝚂𝚂 𝙼𝙴𝙳𝙸𝙰 𝙲𝙾𝙼𝙼, 𝚀𝚞𝚎𝚜𝚝𝚒𝚘𝚗 𝙰𝚕𝚕...𝚃𝚑𝚎 𝚌𝚑𝚘𝚒𝚌𝚎 𝚒𝚜 𝚢𝚘𝚞𝚛𝚜
It appears to have been launched in March 2020 and has been mainly tweeting about various conspiracy theories like Pizzagate, Bill Gates, vaccines and 5G. This is the tweet in question:
BREAKING:

Hell's Angels and Mongols riding together on their way to Seattle to scrap with Antifa Terrorists.

Stay tuned. #HellsAngels #mongols #AntifaTerrorists #bashbrothers pic.twitter.com/qFauYkLgHf

-- 𝚃𝚑𝚎 𝚆𝚑𝚒𝚝𝚎 𝚁𝚊𝚋𝚋𝚒𝚝𝚝 (@_WhiteRabbitt_) June 13, 2020
The account cites no sources for this news and Lead Stories has been unable to find any sort of announcement on websites or pages linked to either the Hell's Angels or the Mongols.
Note that the image in the tweet is also not recent, it seems to date back to a 2018 gathering of Hell's Angels in Montreal, Canada according to The Canadian Press on Yahoo on August 10, 2018.
SAINT-CHARLES-SUR-RICHELIEU, Canada -- Authorities ramped up checkpoints and their overall presence east of Montreal on Friday as members of the Hells Angels and their sympathizers continued to arrive for a weekend gathering.

The Canada Run -- the Hells' annual get-together -- is being held this year in St-Charles-sur-Richelieu, 50 kilometres from Montreal.

Police said some 500 full-patch Hells members and up to 200 sympathizers were expected to attend.
The rest of the footage appears to show the Mongols MC riding through a California landscape, with the occasional police car or helicopter keeping an eye on things. However that footage has been on YouTube for almost ten years, you can watch it here on a channel named "MONGOLS MOTORCYCLE CLUB" where it was uploaded on June 15, 2010:
Another image frequently used in tweets and posts shows two men wearing Hells Angels and Mongols colors walking side by side, for example in this tweet (archived here):
(Source: Twitter screenshot taken on Sun Jun 14 13:19:31 2020 UTC)
However that image appears to be quite old as well, it appeared in an article (archived here) on Cycle Source in 2011.
Another frequently shared image, for example in this tweet (archived here) supposedly shows the Hells Angels riding towards Seattle together with either the Mongols, the Outlaws or Bikers for Trump:
(Source: Twitter screenshot taken on Sun Jun 14 13:25:54 2020 UTC)
That image appears to be a screenshot from a 2019 video taken in Brighton, UK (which is also why the bikers are driving on the left side of the road):
Lead Stories also checked the websites of the Hells Angels and the Mongols and found no mention of any alliance or collaboration. We reached out to both clubs but have yet to hear back, we will update this post if we get a reply to our inquiries.
What's more, Sonny Barger, founder of one of the oldest Hells Angels chapters and a prominent member of the club, has taken to Facebook (archived here) to deny the rumor:
(Source: Facebook screenshot taken on Sun Jun 14 12:46:30 2020 UTC)
Hat tip to Biker News for pointing us towards Sonny Barger's post and for retracting their initial coverage of a similar rumor concerning Placerville, CA (which we debunked here)
2020-06-14T13:32:19Z

2020-06-14T13:32:19Z

Article updated with more images and statement from Sonny Barger.

2020-06-13T20:42:06Z

2020-06-13T20:42:06Z

Note: the Hells Angels normally spell their name without apostrophe (as noted in their

FAQ

). We have used the spelling used in the tweet and the video to make it easier for people to find this fact check.