 Did Atlanta Police say white supremacists shot seven black people, killing two, in a drive-by shooting in Atlanta on Saturday, June 13, 2020? No, that's not true: The Atlanta Police Department denied to Lead Stories that its spokesman said white supremacists carried out the attack. The author of the article, Tariq Nasheed, described himself as "the world's #1 Race Baiter."
The claim originated in an article (archived here) where it was published by FBATimes.com on June 15, 2020, under the title "7 Black People Shot In Drive-By Shooting In Atlanta By White Supremacists." It opened:
A drive-by shooting in northeast Atlanta left two people dead and at least five others injured Saturday evening, police said.

A pick-up truck driven by white supremacists fired into a group of Black people in the city's Edgewood neighborhood, Atlanta police spokesman Officer Anthony Grant said in a statement.
This is what the post looked like on social media at the time of writing:
Atlanta Police spokesman Officer Steve Avery confirmed in an email to Lead Stories that Atlanta Police spokesman Anthony Grant did give a statement to reporters about a drive-by shooting that killed two and wounded five others in Atlanta's Edgewood neighborhood on Saturday evening, June 13, 2020, but he did not say that white supremacists carried out the attack or that the dead and wounded were "Black people":
That quote is not correct. Officer Grant does work for this office but did not issue that statement.
Police did release a security camera image that showed the apparent shooter in a pick-up truck.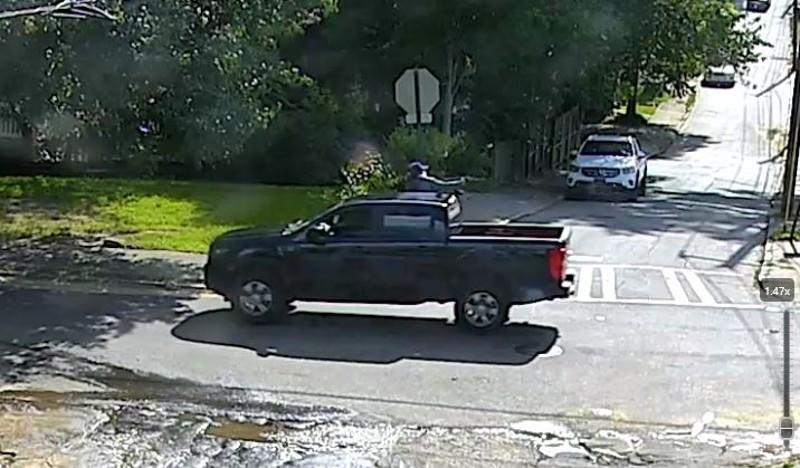 Atlanta police are offering a $2,000 reward for information that leads to an arrest in the drive-by shooting. Tipsters can call Crime Stoppers Atlanta at 404-577-8477.
There has been no connection publicly revealed between the drive-by shooting and protests in reaction to the police shooting of Rayshard Brooks by police on Friday night.
FBATimes.com describes itself as "THE #1 SOURCE FOR NEWS CONCERNING FOUNDATIONAL BLACK AMERICANS." The domain was registered anonymously on May 3, 2020, but Lead Stories connected it to Tariq Nasheed.
Nasheed's describes himself on his Twitter account as a "Foundational Black American" and:
I'm the world's #1 Race Baiter. I bait racists & expose them-Get involved with our fight for justice
The Urban Dictionary credits Nasheed with coining the term "Foundational Black Americans":
An American-born Black person who's descended from Africans (who were forced over to America via slavery) who built this country. Could also refer to the fact that Africans/Black people have been in America prior to slavery (examples include the Olmecs, the human remains of Luzia, the Malians who visited America, etc). This is an honorable term that was coined by Tariq Nasheed and it's one of the newer terms for Black Americans, along with the term ADOS (which was coined by Yvette Carnell and Antonio Moore).
Coincidentally, the dictionary also links to a definition for Nasheed's name as:
A pathological liar
A person that is sooo needy for attention, that he will do anything to be noticed including unbearably stupid things
My god that guy is such an attention seeker, must be a Nasheed